Trustees
Chairman: Peter McCormick OBE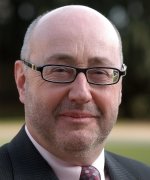 Peter McCormick became a Trustee in the early days of the charity and his Solicitors practice, McCormicks, based in Harrogate, has acted for War Memorials Trust in that period on a pro bono basis. In July 2013 he became Chairman of the Board of Trustees having been Vice-Chairman for several years.
Mr McCormick is an internationally recognised expert in Sports, Media and Entertainment Law and one of the UK's leading figures in the Charities Law field. Alongside charitable work as a Trustee of The Helen Feather Memorial Trust, Chairman and Patron of the Yorkshire Young Achievers Award and Honorary Solicitor to the Duke of Edinburgh's Award and The Outward Bound Trust Mr McCormick is a member of the Legal Working Party of the Premier League and Chairman of the Sports Dispute Resolution Panel. He was awarded the OBE on 1st January 2000 for services to charity.
Speaking of his role with War Memorials Trust Mr McCormick said: "I was delighted to be asked to be a Trustee of War Memorials Trust by Sir Donald Thompson, who worked so hard to create and register the charity and to build it up in those vital early years. My fellow Trustees and I are determined to continue that work and to develop the charity. I believe it is essential for all of us in this country to remember those who fought so that we could live in a free society."
Vice Chair: John Peat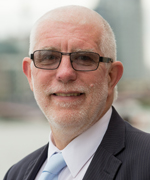 John Peat was one of the first Trustees of the charity in his capacity as a representative of War Memorials Trust's bank, Royal Bank of Scotland.
Initially acting as relationship manager to the charity he has assisted in guiding the charity's finances over the years keeping a close check on activity and our financial position. Now working in the commercial sector of the bank Mr Peat has retained his involvement in the charity due to his strong support for its aims and objectives.
Speaking of his role with War Memorials Trust Mr Peat said: "During my time as a relationship manager with the Royal Bank of Scotland I have been involved with various charities and felt that this knowledge would be of assistance to War Memorials Trust in its early days. Also having experience of dealing with fledging businesses I was able to ensure, with others, that the financial aspect of the charity was set up properly from the outset. I believe that we should not only all look to remember what happened in the past but also look to the future."
Treasurer: Russell Walters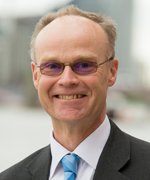 Russell Walters joined the Board of Trustees in September 2015 from a career in the heritage and charity sectors.
Mr Walters worked for English Heritage for over 16 years before taking over as Chief Executive of a charitable foundation in 2013. At English Heritage, he spent a number of years overseeing the grant to War Memorials Trust and was the English Heritage lead on the joint English Heritage/War Memorials Trust War Memorials Online project, as part of his English Heritage role as lead on their World War I commemorations, at the time. He is also a Trustee of the Canterbury Oast Trust and the Battlefields Trust as well as being Chair of Governors at his local infants school.
On joining the board, Russell said: "I delighted to be joining War Memorials Trust after previously having been so involved. I am particularly keen to continue the work on War Memorials Online, whilst helping to develop the organisation for the future."
Randolph Churchill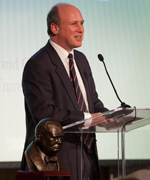 Randolph Churchill joined the Board of Trustees in September 2017 bringing experience from the military and financial sectors.
Mr Churchill undertook a short service commission in the Royal Navy with spells on HMS Alderney and HMS Swallow. Following that, and qualification as a Chartered Accountant, he moved into investments. Since 2003 he has worked for Rathbones managing investments for private individuals and foundations. Randolph is the President of the International Churchill Society, an Honorary Fellow of Churchill College Cambridge and has been a Trustee of the Winston Churchill Memorial Trust and a Director of the Armed Services Charities Advisory Company. Randolph is a regular speaker at Churchill conferences and dinners in the UK and abroad.
On joining the Board, Randolph said "I am thrilled to have joined the Trust and am passionate about maintaining with pride our war memorials across the United Kingdom."
Rupert De Mauley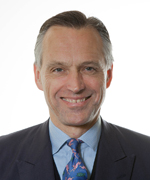 Rupert De Mauley joined the Board of Trustees in June 2017 bringing experience from the political, financial and military sectors.
Lord De Mauley was, until stepping down at the 2015 general election, minister for the natural environment, science and animal welfare at Defra. A chartered accountant and former investment banker and entrepreneur, he spent nine years working in the Far East in the 1980s and 1990s. An army reservist for thirty years, in the early new millennium he commanded the UK's only reserve armoured regiment, the Royal Wessex Yeomanry, of which he is now colonel. A former amateur jockey both here and in the Far East, he is a keen equestrian. He is president of SPANA and of the Council of the Reserve Forces and Cadets Associations and Chairman of LAPADA. He has been a member of the House of Lords since 2005.
Maggie Goodall
Maggie Goodall joined the Board in March 2019 bringing experience of historic buildings casework and practical conservation.
Ms Goodall has a background in history, historic architecture and heritage management. She was War Memorials Trust's first Conservation Officer, between January 2000 and September 2003, organising its casework, giving conservation advice and setting up the initial grant programmes. She has also worked for the Victorian Society and the Cathedrals Fabric Commission for England. Currently she leads the Education and Training team at the Society for the Protection of Ancient Buildings (SPAB).
With an enduring interest in social history, ecclesiastical and funerary architecture, monuments and memorials, she has written and lectured on a variety of war memorial and conservation subjects. She organised the Conservation & Commemoration conference in 2014 (with the SPAB, WMT and the Church of England) and the SPAB's First World War Centenary events – a guest lecture series in November 2014 and archive-focused event in November 2018.
On joining the Board, Maggie commented: "I am delighted to be returning to War Memorials Trust in a role where I can help support the Trust and its dedicated team in the valuable work of making the country's extraordinarily varied and fascinating war memorial heritage better understood, more widely appreciated and well cared for."