Inscriptions - Stone - incised and relief
War Memorials Trust aims to provide information on dealing with the weathering of incised and relief inscriptions commonly found on stone war memorials.
Weathering is a natural process and nothing can be done to stop it entirely. Each war memorial will age and weather differently depending on the type of stone used. It is important to have realistic expectations about what can be achieved by any action and recognise it is important to try to slow down future decay.
There are no 'rules' regarding inscriptions. War Memorials Trust takes a conservation approach seeking to achieve a balance between the legibility of the lettering and integrity of the structure as a whole. It is important that the inscriptions remain legible but if retaining them will damage the rest of the memorial then alternatives may be appropriate. There is no 'one size fits all' answer and the condition of each memorial should be assessed on its own merits. This page seeks to outline some of the issues which should be considered.
Following some questions to consider are examples of war memorials. Pictures of the inscriptions and condition are discussed.
Who can help?
When there are concerns about the inscription a war memorial should be assessed by a professional contractor who understands letter cutting and re-cutting existing inscriptions. Organisations such as the National Association of Master Letter-Carvers retain traditional hand carving skills
War Memorials Trust Conservation Officers can provide advice.
What needs to be considered?
When looking at lettering a number of questions have to be considered in determining the next steps.
What proportion of the letters are legible?
It may be that only one or two have eroded in specific areas.
It may be that there is significant weathering over all panels.
Has the memorial been cleaned?
Often cleaning can help to improve legibility so lettering should be assessed after appropriate, careful cleaning to determine if re-cutting is actually required. Advice on appropriate cleaning methods can be obtained from War Memorials Trust.
Can the letters be re-cut?
It may be a sound piece of stone that could be worked back to a sound face.
It may be a poor quality piece of stone that cannot be re-cut.
The lettering may be of a design that it is not possible to re-cut. This is often the case with letters cut in relief.
Should the lettering be re-cut?
Lettering can only be re-cut a finite number of times so it is important it is carefully considered. It should only be undertaken when absolutely necessary and as a last resort. Re-cutting too early will reduce the total lifetime of the inscription and mean the inscription does not last as long as it possible could. Decisions about re-cutting need to consider the future of the memorial not just today.
It may be the work of a well-known artist/ craftsperson. Arguably, if lettering is re-cut, it is no longer their work. Heritage organisations often advise leaving such lettering to decay naturally. A record of the names could be set up next to the memorial.
It also depends if there is someone skilled enough to do the work. Many traditional skills have been lost and there is a shortage of good letter cutters. It is always advisable to ask for a sample of someone's work.
How should the lettering be re-cut?
It is important that the original style of lettering is retained for the historic integrity of the memorial.
Letters cut by hand will match the original design. Sandblasted letters will appear different.
Can the stone be replaced?
It depends on the type of stone and if it is still available as many quarries are now closed. If it is no longer available another close match will have to be substituted. It is not advisable to introduce materials that would not have been there originally, e.g. adding granite to a limestone memorial, for long term preservation.
It may be that cutting out one area will cause damage to other areas and it would be better to let weathering take its course and record names elsewhere.
Should the stone be replaced now?
A difficult question. Any intervention such as replacement should only be carried out when there is no other option.
Should metal, slate or granite plaques be placed on top of, or instead of, illegible inscriptions?
No. This can lead to physical/chemical problems as the new material interacts with the old and can speed up deterioration and cause new problems.
No. This is a change of the original design of the memorial and doesn't follow the design chosen by those who erected it.
How can I tell?
Below are some examples of different levels of legibility. Before you consider work to the inscriptions, consider how necessary intervention really is. These are designed to give you an idea of different circumstances and think about where your memorial fits on this scale.
Scenario 1
Lettering: Severely weathered, lettering unreadable.
Action: Letters could be re-cut or the stone panel replaced depending on the circumstances. Careful assessment will be required to determine why the letters are weathering. The evidence for proposed work will need to be carefully considered. All works will require a record of the names to be available.
Grant status: Considered for a grant as high priority.
Scenario 2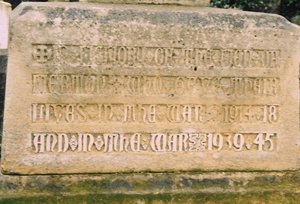 Lettering: Severely weathered lettering in parts.
Action: It is very difficult to undertake work on this type of lettering designed in relief because the letters stand proud of the surface. Re-cutting raised lettering is very difficult and can result in a weakening or loss of letters. An alternative solution would be to place the names nearby, perhaps on a plaque on the wall or close to the memorial.
Grant status: Unlikely to consider a grant for works on the memorial to the lettering due to the risk of damage to the lettering. Conservation work to the stone to prolong life may be eligible.
Scenario 3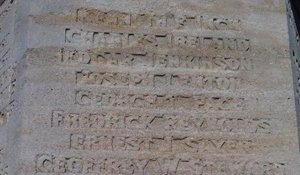 Lettering: Moderately weathered, made more obvious due to relief design.
Action: Work could be considered but optional at this stage. It will depend on the condition of the stone, some 'sharpening up' may be effective.
Grant status: May be considered for a grant but will be low priority.
Scenario 4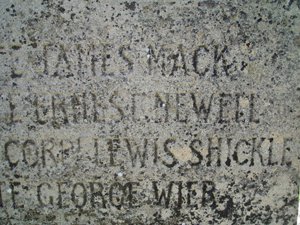 Lettering: Slightly weathered, with some letters loosing definition but still legible.
Action: Does not require work yet. Names should be recorded for future reference. If any work is undertaken it should be 'sharpening up' the lettering rather than re-cutting.
Grant status: Not considered for a grant at this stage
Scenario 5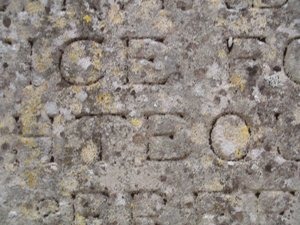 Lettering: Slightly weathered but majority of letters still legible.
Action: Does not require work yet. Names should be recorded for future reference.
Grant status: Not considered for a grant.
Scenario 6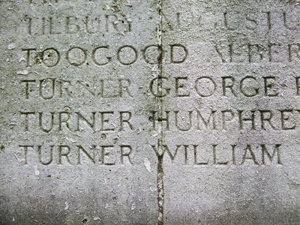 Lettering: Slightly weathered but majority of letters still well defined and legible.
Action: Does not require work yet. Names should be recorded for future reference.
Grant status: Not considered for a grant.