Showcase result
Haslemere
Town or City: Haslemere
County: Surrey
Country: England
WMT Reference Number: WM1844
Value of grant: £5382.00
Type of memorial: Freestanding
Type of work: Conservation and repair
Grant scheme: English Heritage/Wolfson Foundation Grants
Year: 2006

UKNIWM reference number: 23646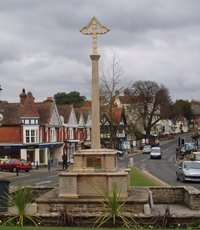 The Grade II listed memorial in the Surrey town of Haslemere, near the county borders with Hampshire and West Sussex, is a limestone cross with gable on a slim pillar standing on a two-stepped square plinth and a stone-faced base. Three faces of the top plinth carry inscribed bronze plaques listing the names of those who fell in World War II. On the lower plinth are inscribed the names of the fallen of World War I and the place that they fell. The memorial is set in a paved area with a surrounding stone wall on the High Street due north of the town hall.
In 2006/7 English Heritage and the Wolfson Foundation gave £5,382 towards work to clean the memorial and the surrounding wall, re-pointing the wall where necessary, to re-point the stone facing on the base with lime mortar and to replace the missing granite corner protection stone, to cut out poorly repaired sections of stonework on the plinth, replace them with new stone and re-point where necessary and to re-furbish the bronze plaques.
In 2018 War Memorials Trust gave a grant of £1,790 towards conservation works to repair stonework, carefully cutting out damaged stone and indenting stone to match existing stone type. In addition localised repair was carried out to cracked/damaged stone using a suitable lime mortar. Inscription work was repainted using appropriate oil based paint in colour to match original design.
The inscription on the top plinth reads:
"We died for England
See that you live for her"
And on the lower plinth:
"To the memory of
Haslemere men
who laid down their lives
in the Great War
1914 -1919"
The memorial was designed by the influential architect and garden designer Harry Inigo Triggs and constructed in 1919. The chairman of the War Memorial Committee was Sir Algernon Methuen, founder of the publishing house, who is buried in Haslemere.
Further information
War Memorials Trust reference WM1844
UK National Inventory of War Memorials: 23646
War Memorials Online: 100477
Heritage Gateway listing record: 490514
WM992 in Woking and WM2003 in Bramshott were also designed by Harry Inigo Triggs.
If you have a concern about this memorial please contact the Trust on conservation@warmemorials.org