War Memorials Trust
War Memorials Trust works for the protection and conservation of war memorials in the UK. We provide advice and information to anyone as well as running grant schemes for the repair and conservation of war memorials. The website provides a range of resources to help you discover more about war memorials and their preservation. Please remember we are a registered charity relying entirely on voluntary contributions to undertake our work.
Get involved with War Memorials Online to upload photos, check location, contribute condition information and add links for your local war memorial.
In Mem

oriam 2014 is a partnership between War Memorials Trust and the SmartWater Foundation to protect memorials at risk of theft or damage by marking them with a forensic liquid called SmartWater. To apply for the product visit the In Memoriam 2014 website.
Grants Showcase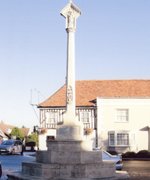 WM1926 Dedham Cross
The war memorial in the village of Dedham, Essex is Grade II listed. It is made of coarse grained limestone and has a four stepped base surmounted by a plinth and a tall shaft topped by an unusual stone crucifix. The crucifix, carved from a ...

The Showcase features grants to war memorial conservation projects across the UK. Search the showcase to find out more.