Showcase result
Miss Doris Ewbank
Town or City: Whitley Bay
County: Tyne and Wear
Country: England
WMT Reference Number: WM941
Value of grant: £125.00
Type of memorial: Non-Freestanding
Type of work: Conservation and repair
Grant scheme: Small Grants Scheme
Year: 2002

UKNIWM reference number: 17737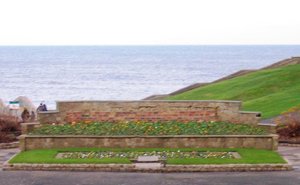 The granite war memorial plaque with black lead lettering is dedicated to Miss Doris Ewbank (WM941). It is placed in front of flowerbeds, above the path. Alongside is another plaque to Whitley Bay Civil Defence Service and Special Constabulary memorial which dedicates the garden with pool (now converted into a flower bed) (WM3942).
In August 2002 War Memorials Trust gave £250 towards the cleaning and relettering of memorial plaques to Miss Ewbank and her colleagues at the Whitley Bay Civil Defence.
Miss Ewbank was a primary school teacher at Backworth School and was an ambulance driver for the Women's Royal Voluntary Service. She was killed at the age of 28 on 19th April 1941 when a bomb hit the ambulance she was driving. Her mother, a widow, arranged to have the plaque installed in Panama Gardens, but Miss Ewbank's death was not reported in the local press because of reporting restrictions.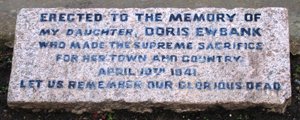 The inscription on Miss Ewbank's memorial reads
Erected to the memory of
My daughter Doris Ewbank
Who made the supreme sacrifice
For her town and country
April 10th 1941
Let us remember our glorious dead
The restored plaques were rededicated on 13th November 2002 at a service led by Rev. Dr. Chris Knight of St. Mary's Church. Police, war veterans and councillors, as well as some current pupils of Backworth School and two other local schools, attended the ceremony.
Further information
War Memorials Trust reference WM941
UK National Inventory of War Memorials: 17737
North East War Memorials Project W84.09
If you have a concern about this memorial please contact the Trust on conservation@warmemorials.org