Showcase result
Bootle
Town or City: Bootle
County: Merseyside
Country: England
WMT Reference Number: WM2464
Value of grant: £86660.00
Type of memorial: Freestanding
Type of work: Conservation and repair
Grant scheme: WMT Grant Scheme
Year: 2016

UKNIWM reference number: 1286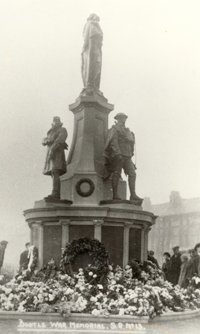 Bootle war memorial is located within Stanley Gardens (also referred to as King's Gardens) on Stanley Road in Bootle, Merseyside. The memorial is based around a 12-sided Forest of Dean sandstone drum which stands on a stepped base. Atop the drum are elevated figures of a soldier, sailor and airman around a stone triangular, concave-sided obelisk. Above them as the central figure is a bronze statue of a mother and child.
The memorial has 12 bronze plaques with raised inscriptions commemorating those who died in World War I. 2 additional bronze plaques on the entrance steps with inscriptions in lead lettering on the original stone boundary plinth commemorate those who died in World War II. Further names from subsequent conflicts have been added. On the west side of the memorial there is a stone tablet commemorating the Liverpool Escort Force of World War II. The memorial is Grade II listed.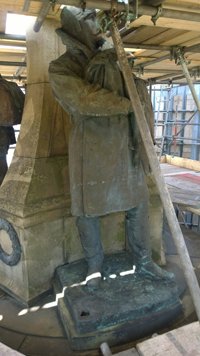 In 2016 a grant of £88,320 was offered through War Memorials Trust Grants Scheme, supported by the First World War Memorials Programme, towards repair and conservation work. As part of the project a War Memorials Trust Conservation Officer made a series of site visits through the programme of works to discuss issues on site and help the smooth running of tis large scale project. Works undertaken included steam cleaning to improve the legibility of the inscriptions. Construction joints were re-pointed with lime mortar pointing whilst necessary stone indent repairs were undertaken. The approach steps and base were lifted and re-laid to the original design on new foundations and lead letters were repaired. Finally, the bronze was cleaned, repaired where needed and protective wax was applied; confirmation that SmartWater had been applied was also required as part of the In Memoriam 2014 initiative. A Maintenance/Management Plan has been completed. Final payment was £86,660 as final costs were lower than the initial estimates.
Construction commenced on Bootle war memorial in May 1922 and was completed on 15th October 1922. The bronze sculptures are by Joseph Hermon Cawthra, RBS (1886-1971) and were cast by Mario Manenti (1885-1954). It is believed that the overall form and configuration design was by Hubert Ernest Bulmer, ARCA (1874-1963). The mother and child figure symbolise new life and hope. The inclusion of an airman is very unusual for World War I as air warfare was still very new. The memorial was erected under the direction of Mr B.J. Wolfenden, the Borough Engineer with the contractor a Henry Clegg of Chester.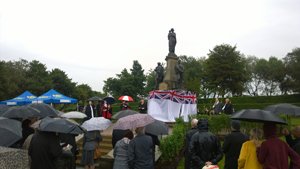 The memorial was officially unveiled on 15th October 1922.The inscriptions to commemorate World War II were added in 1948. The conserved and repaired memorial was officially re-rededicated and unveiled on Saturday 3rd September 2016 with War Memorials Trust's Director, Frances Moreton, invited to give a speech at the service attended by many local people.
Further information
War Memorials Trust reference WM2464
UK National Inventory of War Memorials: 1286
War Memorials Online: 136041
The 2016 Bootle project was integral to advice produced by Historic England on Conserving War Memorials Case Study: The Surface Treatment of Bronze Statuary.
If you have a concern about this memorial please contact the Trust on conservation@warmemorials.org