Showcase result
Warleggan
Town or City: Truro
County: Cornwall
Country: England
WMT Reference Number: WM5121
Value of grant: £6950.00
Type of memorial: Non-Freestanding
Type of work: Conservation and repair
Grant scheme: Small Grants Scheme
Year: 2012

UKNIWM reference number: 26120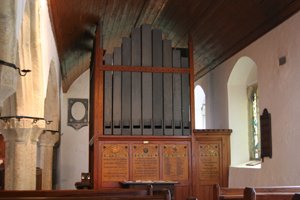 Warleggan Parish war memorial is located in St Bartholomew's Church. It is a war memorial organ with accompanying plaques which record both those whose served and those who fell. It is known as the "Peace and Victory" organ. The church is listed at Grade II* and is sited in Bodmin Moor conservation area.
In 2012 War Memorials Trust offered an exceptional grant of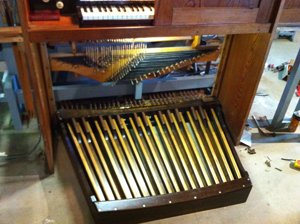 £6,950 towards works to the organ. Over the years the church had suffered from a damp roof to which the organ had adjusted. But with the roof repaired the change in atmosphere within the church affected the instrument and meant it had, at times, become unplayable. In order to ensure the memorial could continue to fulfil its function the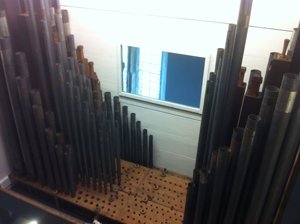 grant supported repair works which first required partial dismantling and cleaning of individual parts of the organ and minor repairs to the front speaking display pipes. The timerwork was then treated using preservative and worm-killer and was then coated in an oil-based sealer. Timber-work which had been attacked by worms needed to be replaced on a like-for-like basis. The rust was removed from all metalwork and it was then treated using a protective paint. The soundboards were re-palleted with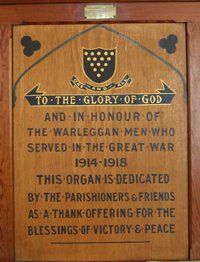 felt and leather coverings and the pallet springs, wires and eyes where renewed. The motors for the pedal soundboards were re-leathered. A wind-regulated contral was fitted to the blowerbox. The instrument was re-assembled.
The memorial was dedicated in 1920. It was built by Heards of Truro under the supervision of Alfred Tilley, brother-in-law of the Rector Revd. Leggo. Mr Tilley was the organist, lay-reader and a mining engineer.
Further information
War Memorials Trust reference WM5121
UK National Inventory of War Memorials: 26120
War Memorials Online: 98050
If you have a concern about this memorial please contact the Trust on conservation@warmemorials.org