Showcase result
Milton Regis St Paul's Church
Town or City: Sittingbourne
County: Kent
Country: England
WMT Reference Number: WM3462
Value of grant: £1232.00
Type of memorial: Non-Freestanding
Type of work: Conservation and repair
Grant scheme: Small Grants Scheme
Year: 2010

UKNIWM reference number: 000000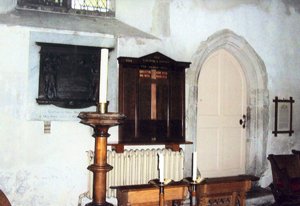 This memorial takes the form of a three-panelled wooden board with wooden pediment on top. The central board displays a large metal cross. The memorial commemorates the 197 men from Milton Regis who were killed in WWI whose names are painted on the memorial. The memorial is located in Holy Trinity Church Milton Regis but was originally located in St Paul's Church.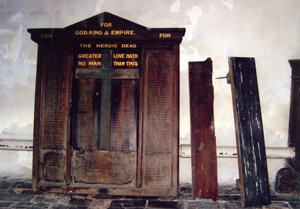 In 2010, War Memorials Trust gave a grant of £1,232 towards the conservation and repair of the memorial so that it could be permanently relocated to Holy Trinity Church. As the memorial had been in storage for a number of years it was in poor condition as joints had moved, sections of the board had come away and the wood had become so stained that many of the names were illegible. Grant works included re-gluing the joints and re-fixing the sections of board which had become detached, the teak was cleaned and oiled and all the names were re-painted by a professional sign writer due to the extent of deterioration and staining.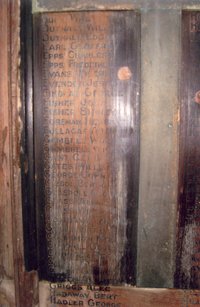 The memorial was originally located at St Paul's Church in Milton Regis and was dedicated on Sunday 2nd September 1917. A report in the East Kent Gazette on 8th September 1917 detailed that the memorial was made of teak from the training ship HMS Britannia (1869-1905). Prior to the unveiling there was a procession led by the Fire Brigade from the Town Hall to the Church where the service was conducted by the Vicar of St Paul's, Rev E. Bowser. The memorial itself was unveiled outside the Church by Col. Byron who was awarded the Distinguished Service Order. Further names had to be added to the memorial at the end of the war. St Paul's Church was demolished in the 1960s so the memorial was put into storage at Holy Trinity Church for 40 years until it was found again in 2009.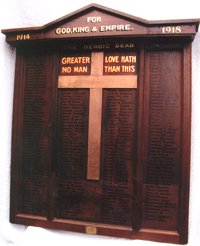 The general dedication on the memorial reads:
"For God, King & Empire.
1914 1918
The Heroic dead
Greater love hath
No man than this".
Further information
War Memorials Trust reference WM3462
UK National Inventory of War Memorials: 000000
If you have a concern about this memorial please contact the Trust on conservation@warmemorials.org