Showcase result
Saxilby with Ingleby
Town or City: Saxilby
County: Lincolnshire
Country: England
WMT Reference Number: WM4143
Value of grant: £2500.00
Type of memorial: Freestanding
Type of work: Conservation and repair
Grant scheme: Small Grants Scheme
Year: 2011

UKNIWM reference number: 43003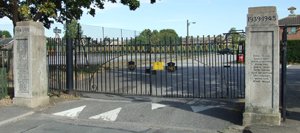 Saxilby war memorial gates stand at the entrance to the war memorial playing field on William Street. The wrought iron double gates are flanked by concrete pillars which have the names of those killed in both World Wars incised and painted black. The gates have a number of decorative elements such as scrolls and World War II date plaques and have a black and gold colour scheme.

In 2011 a grant of £2,500 was awarded towards an extensive programme of repairs. Following a vehicle collision the gates were damaged and hanging out of alignment as well as some of the bars being damaged. Furthermore, the iron had corroded and in some places this was so severe there were holes in the ironwork. The gates were removed so work could be undertaken and the ironwork was cleaned and repaired to address the corrosion on the metal and damage to plaques. All repairs were completed on a like-for-like basis in both design and materials with traditional forging methods used wherever possible. The ironwork was then painted with appropriate treatments and the gates rehung. In addition the inscription pillars were cleaned with DOFF steam cleaning system, cracks in the stonework were filled with lime mortar and the lettering was re-painted with black enamel paint.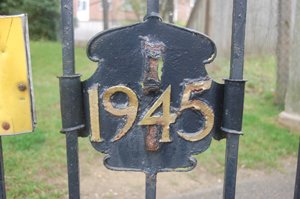 A War Memorial Committee was formed in September 1946 and house-to-house collection envelopes were issued in October 1946 and within a month had raised £169.69; the total cost for the pillars and gates was £315.07. Due to cost implications the pillars were chosen rather than bronze plaques. The gates were produced by Bayliss, Jones & Bayliss of Wolverhampton. The memorial was unveiled on 11th January 1948. The service was conducted by Rev Mann the Vicar of Saxilby, and the opening was conducted by Captain HFC Crookshank, MP for Gainsborough.
The inscription pillars carry the names and dates for the two World Wars with the final pillar carrying words from Laurence Binyon's For the Fallen: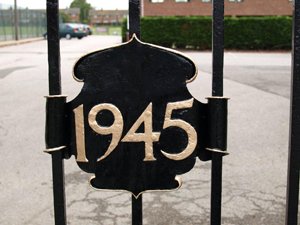 "At the going down of the sun
And in the morning
We will remember them".
The names on the memorial are as follows:
World War I
Frank Ancliff
Alec Blades
William Butler
John E. Codling
Wilkinson Credland
Ernest Cunnington
Willie Cunnington
Laurence Drury
Arthur Glew
Tom Glew
Edgar Hall
Sam Hill
Harry Ingall
Herbert Ingall
Isaac Kirton
Harry Lambert
Frank Milner
Tom Pocklington
Gordon Ravenscroft
John Rawson
Harold Read
Arthur Robinson
Robert Sims
Arthur Smith
Preston Smith
Percy Stephenson
William Storey
Percy Swallow
Joseph Toyne
Arthur Wells
Arthur White
Edgar Wilmot
Charles Wilton
William Winterbotham
World War II
Denzil Bishop
Ronald Britt
Joseph Carruthers
Frank Ford
John R. Jones
Peter Newton
Alan Sarjantson
Eric Sergeant
George Tagg
Albert Wallis
Further information
War Memorials Trust reference WM4143
UK National Inventory of War Memorials: 43003
If you have a concern about this memorial please contact the Trust on conservation@warmemorials.org