Showcase result
Hellifield
Town or City: Skipton
County: North Yorkshire
Country: England
WMT Reference Number: WM4824
Value of grant: £1292.00
Type of memorial: Freestanding
Type of work: Conservation and repair
Grant scheme: Small Grants Scheme
Year: 2011

UKNIWM reference number: 29600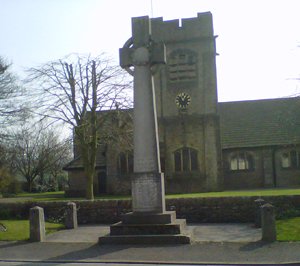 Hellifield war memorial is located outside of St Aidan's Church and is a large stone wheel cross of plain design with a carved wreath in relief towards the top of the memorial. The inscriptions which commemorate those killed in World Wars I and II are incised and painted black on the plinth and lower shaft of the cross. The memorial is bordered by low bollards and metal chains.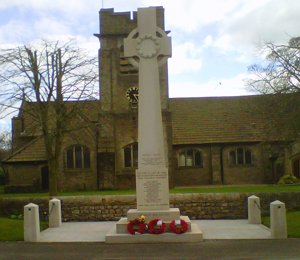 In 2011 War Memorials Trust gave a grant of £1,292 towards conservation of the memorial. The deposits on the memorial were beginning to make the inscriptions difficult to read, there was some minor stone damage and the chains were rusting and beginning to cause damage to the stone bollards. Therefore, the memorial was cleaned with water and a biocide was applied to delay re-growth of biological growths. All open or failed joints were raked out by hand and re-pointed with lime mortar. The small areas of stone damage were cut out and replaced with indented matching stone and the lettering was re-painted. A condition of the grant was that an application was made to the In Memoriam 2014 project to protect the metal chains from theft.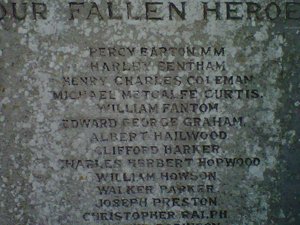 The memorial was designed by Connon and Chorley and built by Messrs J. T. Barnes. The dedication was in June 1921.
The inscriptions on the memorial read:
"1939-1945
John William Cuttriss
Margaret Davis
Walter Lee
James Robert Rumney
Percy Thompson"

"To the glory of God
and in honoured memory of
our fallen heroes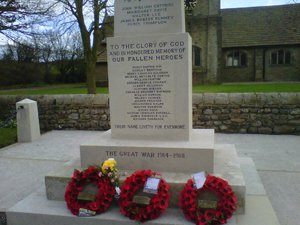 Percy Barton MM.
Harley Bentham.
Henry Charles Coleman.
Michael Metcalfe Curtis.
William Fantom.
Edward George Graham.
Albert Hailwood.
Clifford Harker.
Charles Herbert Hopwood.
William Howson.
Walker Parker.
Joseph Preston.
Christopher Ralph.
Walter Robinson.
Angus Ross.
Arthur Charles Russell.
James Shorrock D.S.O.
Richard Shorrock.

Their name liveth for evermore.

The Great War 1914-1918."




Further information
War Memorials Trust reference WM4824
UK National Inventory of War Memorials: 29600
If you have a concern about this memorial please contact the Trust on conservation@warmemorials.org