Showcase result
Kings Pyon
Town or City: Kings Pyon
County: Herefordshire
Country: England
WMT Reference Number: WM4074
Value of grant: £713.00
Type of memorial: Freestanding
Type of work: Conservation and repair
Grant scheme: Small Grants Scheme
Year: 2011

UKNIWM reference number: 33143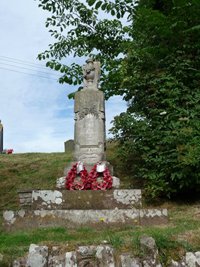 Kings Pyon war memorial is located in the Kings Pyon Churchyard. It takes the form of a funerary monument with a three-stepped sandstone base and marble plinth surmounted by a carved urn which is covered with a carved shroud. The memorial commemorates those killed in World War I and the inscriptions are detailed on lead letters on the faces of the column.
In 2011 War Memorials Trust gave a grant of £713 towards the conservation of the memorial. The memorial had become heavily soiled including with pollution deposits which can be damaging to the marble if left. The memorial was cleaned in a number of ways to remove the various types of soiling including steam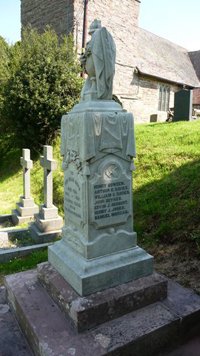 cleaning, poultice and application of a biocide. Any damaged or loose letters were re-fixed and polished to improve their legibility. In addition, failed mortar was removed and re-pointed with lime mortar coloured to blend with the original. As part of the grant an application was made to In Memoriam 2014 to protect the metal lettering.
The general inscriptions on the memorial read:
"To
our dear boys
who fell
1914-1919
A loving token
from
the parishioners."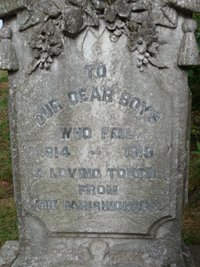 "Greater love hath no
man than this, that a
man lay down his life
for his friends.

St John. XV. 13."
The names commemorated on the memorial are:
Henry Bowden
Arthur G. Davies
William G. Davies
John Deykes
Edwin J. Herbert
Henry J. Jones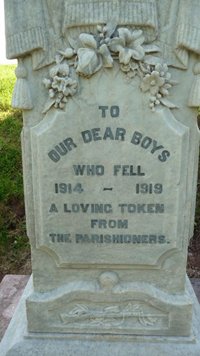 Samuel Morgan
Arthur D. Parton
James Patterson
Frank P. Rhodes
John Stevens
Albert Wheale
William T. Yapp.
Further information
War Memorials Trust reference WM4074
UK National Inventory of War Memorials: 33143
If you have a concern about this memorial please contact the Trust on conservation@warmemorials.org