Showcase result
International Brigade Spanish Civil War
Town or City: Lambeth
County: Greater London
Country: England
WMT Reference Number: WM3974
Value of grant: £937.00
Type of memorial: Freestanding
Type of work: Conservation and repair
Grant scheme: Small Grants Scheme
Year: 2012

UKNIWM reference number: 39155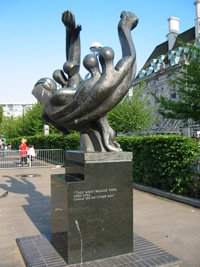 The International Brigade memorial, located in Jubilee Gardens, London is dedicated to the servicemen and women of the International Brigade who fought and died during the Spanish Civil War (1936 -1939). The memorial stands 4.5 metres high and consists of a bronze sculpture of four figures supporting a fifth wounded and kneeling figure atop of a marble plinth.
In April 2012, a grant of £937 was offered through the Small Grants Scheme for repairs to the memorial. These works included cleaning of the memorial using non-metallic bristle brushes and de-ionised water, then careful isolated cleaning of the corroded areas of the bronze sculpture was undertaken using wire wool, soft wire brushes and metal picks in order to fully remove all signs of active corrosion. Following this, selective re-patination was undertaken to the areas of the figures where the patina had been damaged then the entire bronze statue was coated in a protective microcrystalline wax and lightly buffed to re-new its finish. The damaged and cracked areas of the marble plinth were repaired using a colour matched resin then the lettering was re-gilded where required and the failed joints were re-filled, also using resin filler. Finally, Smartwater was applied to the bronze figures.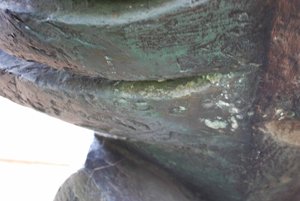 On 5th July 2012 following completion of the works, a rededication ceremony took place, coinciding with the International Brigade's annual commemoration service. The honour of unveiling the newly renovated memorial was given to International Brigade British Battalion veteran David Lomon, who is 93 years old.
The memorial was sculpted by Ian Walters, a well renowned sculptor who designed many monuments around the UK, most often of high profile political figures; including a bust of Nelson Mandela sited at the Royal Festival Hall, London and a statue of Harold Wilson located in Huddersfield. The initial appeal for funding the construction of the International Brigade memorial began in 1984, with contributions coming from various trade unions, democratic bodies, members of the public and from the Greater London Authority, who also offered the site on which the memorial is located on the South Bank, London. The memorial was unveiled on 5th October 1985 by Michael Foot, former leader of the Labour Party.
The inscription on the front of the memorial reads:

International Brigade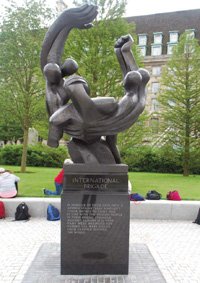 In honour of over 2,100 men &
women volunteers who left
these shores to fight side
by side with the Spanish people
in their heroic struggle
against fascism 1936-1939
Many were wounded and
maimed 526 were killed
Their example inspired
the world
Further information
War Memorials Trust reference WM3974
UK National Inventory of War Memorials: 39155
If you have a concern about this memorial please contact the Trust on conservation@warmemorials.org