Showcase result
Sparsholt and Lainston
Town or City: Winchester
County: Hampshire
Country: England
WMT Reference Number: WM4157
Value of grant: £1229.00
Type of memorial: Freestanding
Type of work: Conservation and repair
Grant scheme: Small Grants Scheme
Year: 2011

UKNIWM reference number: 49983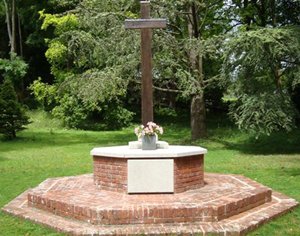 Sparsholt and Lainston war memorial is located on Woodman Lane in a key area of Sparsholt adjacent to the Church and opposite the Memorial Hall, village shop and primary school. The memorial is an oak cross on a brick base and plinth. The memorial commemorates those from World War I and World War II and the names of the fallen are carved onto stone coping panels on top of the plinth and a stone plaque on the face of the plinth. The memorial is not listed but is located within a conservation area.
In 2011, War Memorials Trust gave a grant of £1,229 towards conservation and repair works. These works consisted of lightly cleaning the oak cross and applying Danish Oil for protection. The lead capping to the cross was defective so this was replaced to further protect the oak from water ingress. The stonework and brickwork were cleaned with water and non-metallic brushes. This was important to help improve the legibility of the inscriptions and has allowed for an assessment of whether the lettering requires any re-cutting. A significant number of the joints on the base were open so these were re-pointed with lime mortar to ensure there is not unnecessary ingress of water into the structure which can cause significant damage.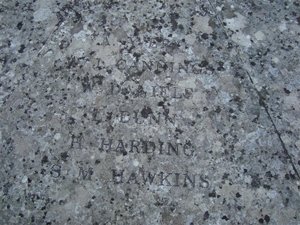 The land for the memorial cross and design were from Mr Robert Bostock and the memorial was paid for by public subscription. A newspaper report from The Hampshire Chronicle in November 1923 records the unveiling and dedication of the memorial which was undertaken by General Portal, C.B., D.S.O. The report notes the ceremony '..took place at Sparsholt on Sunday afternoon in the presence of a large number of villagers and others, those present including members of the local branch of the British Legion..the Girl Guides and Brownies...' The ceremony began in the Church and then moved to the Memorial Hall where General Portal unveiled an oak tablet with the names of the 62 men who served in World War I. The ceremony ended at the memorial cross.
The memorial cross, Memorial Hall and oak roll of honour all form part of the village's choice of commemoration.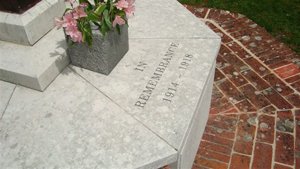 As well as the names of the fallen the memorial also carries the following inscription taken from Hebrews 12:1:
'Seeing that we are
compassed about by
so great a cloud of
witnesses let us run
with patience the race
that is set before us'
Further information
War Memorials Trust reference WM4157
UK National Inventory of War Memorials: 49983
If you have a concern about this memorial please contact the Trust on conservation@warmemorials.org