Showcase result
Bridgwater
Town or City: Bridgwater
County: Somerset
Country: England
WMT Reference Number: WM2993
Value of grant: £875.00
Type of memorial: Freestanding
Type of work: Conservation and repair
Grant scheme: Small Grants Scheme
Year: 2009

UKNIWM reference number: 1396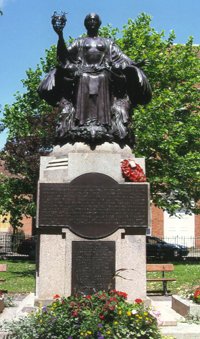 The Angel of Bridgwater is composed of a large sculpted angel on top of a granite plinth with bronze plaques on all sides. The plinth is set on a three stepped based surrounded by paved area with planting and benches.
The war memorial is located in King Square, Bridgwater, Somerset.
In 2009 War Memorials Trust gave a grant of £875 for the replacement of three small bronze plaques on the north face of the plinth with one large bronze plaque to restore symmetry to the memorial and to provide space for additional names to the be added to the memorial, in particular, the name of B. J. Knight who was killed in the Afghanistan Conflict in 2006. This new plaque matches the original design and typeface of the panels on the other faces of the memorial.
After World War I a committee was initially formed to decide what sort of tribute to those killed should be established. After rejecting some proposed locations, King Square was selected as it was being restored at the time. The memorial was designed by West Country sculptor John Angel. The memorial was unveiled on 25th September 1924 by Earl of Cavan, with the unveiling attended by relatives of those killed, ex-servicemen, local dignitaries, and the designer himself.
The design by John Angel is full of symbolism: the bronze angel figure represents civilisation, and under her feet are a monstrous head, skeleton, a figure with its head in its hands and two figures in combat which represent the atrocities of war: bloodshed, corruption, strife, and despair. The angel holds in her right hand an orb which is decorated with four characters representing the Four Corners of the Earth, they are holding a banner which symbolises a united Earth. The book of law is resting on her lap and is protected by two children beneath her wings, also under the wings are a group of people symbolising labour, education, and the home. Names have been added to the memorial since its erection to commemorate those killed in subsequent conflicts.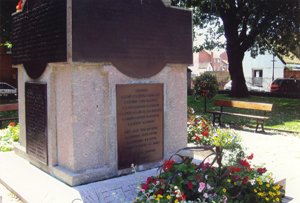 John Angel was born in Newton Abbot in 1881; he studied at Lambeth School of Art and the Royal Academy, and also studied in Greece and Italy. Eventually Angel emigrated to America where his work included the bronze doors of St Patrick's Cathedral, New York.
The war memorial commemorates those killed in World War I, World War II, Korean War, Falklands Conflict, and the Afghanistan Conflict.
Further information
War Memorials Trust reference WM2993
UK National Inventory of War Memorials: 1396
Independent research undertaken on the names recorded on the memorial by Brian Dyer, WMT member. The Trust takes no responsibility for the accuracy of this research.
If you have a concern about this memorial please contact the Trust on conservation@warmemorials.org