Showcase result
Crook of Devon Plaque
Town or City: Kinross
County: Clackmannanshire
Country: Scotland
WMT Reference Number: WM1940
Value of grant: £180.00
Type of memorial: Non-Freestanding
Type of work: Conservation and repair
Grant scheme: Small Grants Scheme
Year: 2007

UKNIWM reference number: 00000
The Crook of Devon Institute is a village hall serving the four villages of Powmill, Rumbling Bridge, Drum and Crook of Devon (the largest) which constitute the Parish of Fossoway. The population is around 1,000 and the Institute was built in 1911. In 2004 a major refurbishment of the hall was undertaken. Following that work the Institute undertook to improve the two war memorials associated with the Institute which were erected following public scubcription in 1920.
Inside the Institute a wooden war memorial board is dedicated to local people of the Parish of Fossoway who served in the Great War. Over the years varnish had been heavily applied making it difficult to read so it required a proper clean and re-lettering work, in line with the original design, and an application of varnish.
War Memorials Trust awarded grants totalling £180 towards the conservation work. This was in conjunction with another grant to a memorial outside the Institute (WM1939). Details of the grant offer were reported in the local paper The Courier and Advertiser.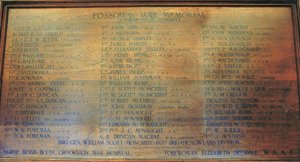 The plaque holds the names of 63 who served and reads:
Sapper A.C. Adamson
Bombr. R. Archibald
L/Cpl T. J. W. Blyth
Pte L. Blyth
Sgt L. Blyth
Pte P. Balfour
Pte C. Balfour
Cpl A.L. Ballingall
Gr.J. Ballingall
Pte R. Bowman
2nd Lt Hamish Clyde
A.M.I.E. A Campbell
Pte J. Mc.C. Duncan
Flight Sgt. A. C. Duncan
L/Sgt C. Duncan
Sgt P. Drysdale
Cpl. D.S. Ellis
Pte W. Edmond
Sgt W.K. Foreman
Sgt D.K. Foreman
Pte John Fyfe
Pte J. Hepburn
Sgt George Harley
Pte James Harley
LCpl. Alexander Harley
L/Sgt. Henry Irons
Pte John Irons
Pte David Irons
Cpl James Inglis
Pte William Johnman
Gr.William Kemp
Capt. R Scott-Moncrieff
Lieut W. Scott-Moncrieff
Capt Robert Moubray
Lieut John Moubray
Sgt. J. C. McNaught
Sgt. D. M. McNaught
Lieut. Edward M. McNaught
Shrg. Prob. J. C. McNaught
A.B. Duncan Macrae
Brig. Gen. William Scott-Moncrieff
Pte Finlay Macrae
Cm John Muirhead
Pte A Macdonald
Pte R Macdonald
Sapper P. Macdonald
Pte R. Macdonald
Pte J. Macdonald
L/Cm J. Miller
Pte Alexander Mitchell
Pte George Mackie
Pte John Mackie
Lord C Mercer Nairne
Pte. A. Mcgregor
Trooper H. Preston
2nd Lieut W. D. Robeson
Cpl William Ross
Cpl Harry Shearer
Trumpeter W.J. Shearer
Pte W. Wilkie
Pte J Wyness
Nurse Bessie Blyth Crookston War Hospital
Forewoman Elizabeth Drysdale W.A.A.F.
Further information
War Memorials Trust reference WM1940
UK National Inventory of War Memorials:
If you have a concern about this memorial please contact the Trust on conservation@warmemorials.org