Showcase result
Stockwell
Town or City: Stockwell
County: Greater London
Country: England
WMT Reference Number: WM2261
Value of grant: £9665.00
Type of memorial: Freestanding
Type of work: Conservation and repair
Grant scheme: English Heritage/Wolfson Foundation Grants
Year: 2012

UKNIWM reference number: 2256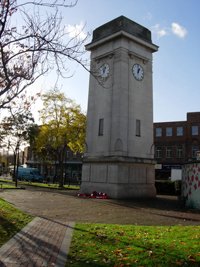 The Stockwell war memorial is in the form of a Neo Grecian style Portland stone clock tower and is Grade II listed. On the front of the memorial is a figure of Remembrance in relief and there is a Greek key band running around the memorial. On one face are a set of double doors to left of these is inscribed '1914' and to the right '1919. On the other three faces are rectangular leaded lights. There is a clock face on each side of the memorial at high level. The clock is located on a piece of land known as the Triangle, and is at the junction of Clapham Road and South Lambeth Road.
In 2012 War Memorials Trust awarded a grant of £290 towards a condition survey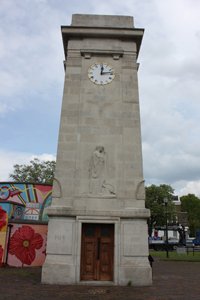 for the memorial through its Small Grants Scheme. Following this, in 2013, an application was made to the Grants for War Memorials Scheme for funding towards the identified works. These works included re-pointing to the memorials, repair of the doors which had been vandalised in the past, some hand sharpening of the inscriptions, cleaning using a suitable steam clean system and new windows. There was also some work required to the Greek Key band which had previously undergone inappropriate cement based repairs. The project received a grant of £9,665 towards a project cost of £19,336.
The project had a lot of local support with the Friends of Stockwell War Memorial and Gardens being very involved in the project. The group have produced a book on the individuals commemorated on the memorial and further works were undertaken in the vicinity of the memorial to address the condition of the mural painted on the Rotunda to commemorate the fallen from the two World Wars.
In November 1919 the committee set up to oversee the creation of a war memorial on the Triangle invited architects and designers to submit designs for the memorial. The finalists were then to be judged by the Royal Academy of Art. The Royal Academy War Memorials Committee chose the design of an architect, Frank Twydals Dear in 1920.
The figure of Remembrance was designed by Benjamin Clemens and the stone carving was executed by Fredrick Francis. The clock was donated by Dr Caiger. The memorial was unveiled on 3rd May 1922 by Princess Alice Countess of Athlone.
Beneath the figure of Remembrance are carved the words:
'To the Stockwell Men
who served in the Great War 1914-1919'
There are also nine inscription panels around the base of the memorial listing the fallen.
Further information
War Memorials Trust reference WM2261
UK National Inventory of War Memorials: 2256
If you have a concern about this memorial please contact the Trust on conservation@warmemorials.org