Showcase result
Penhill
Town or City: Penhill
County: Wiltshire
Country: England
WMT Reference Number: WM7453
Value of grant: £2500.00
Type of memorial: Freestanding
Type of work: Relocation
Grant scheme: Small Grants Scheme
Year: 2013

UKNIWM reference number: 00000
This war memorial is a small Portland stone cenotaph shaped monument, approximately 1.5 metres in height. The memorial was located outside the Penhill Royal British Legion Building, Swindon.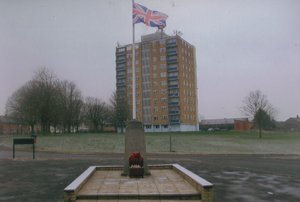 In 2013 War Memorials Trust were contacted by the Penhill Branch Royal British Legion to notify us that the RBL building and the memorial were due to be demolished as the site was being redeveloped. The Trust offered a grant of £2,500 towards the re-location of the memorial from its existing site to the grounds of St Peters Church, Penhill approximately 0.5 miles away. Re-location of a war memorial is recommended as a last resort as less invasive solutions can usually be found which result in less risk of damage to the fabric of a memorial. War Memorials Trust only recommend relocation of a war memorial where it is at risk due to re-development of the site or no longer publicly accessible. The relocation of this memorial to the grounds of the local church ensures that it remains within the community and public memorial services can be held within the grounds of the church.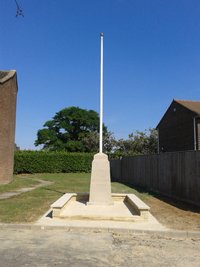 Penhill Royal British Legion was opened 1967 and the War Memorial was constructed between that year and 1970.
The inscription on the front of the memorial reads:
We will remember them
Further information
War Memorials Trust reference WM7453
UK National Inventory of War Memorials:
War Memorials Online: 133999
If you have a concern about this memorial please contact the Trust on conservation@warmemorials.org