Showcase result
Charlton Mackrell
Town or City: Charlton Mackrell
County: Somerset
Country: England
WMT Reference Number: WM5188
Value of grant: £2450.00
Type of memorial: Freestanding
Type of work: Conservation and repair
Grant scheme: Small Grants Scheme
Year: 2012

UKNIWM reference number: 24828
This memorial consists of a limestone monolith on a two stepped base located within a small garden of remembrance on the edge of an A-road running through the village of Charlton Mackrell. The memorial is dedicated to the men of the Parish who lost their lives in World War I and World War II.
In 2012 War Memorials Trust offered a grant of £2,450 towards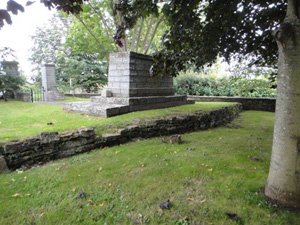 repairs to the memorial, which included structural consolidation as the memorial was showing signs of movement. Inappropriate repairs carried out in the past using cement had resulted in a progressive outward displacement of the plinth courses, fracture of the stones, entrapment of moisture behind the cement pointing and the ingress of organic matter. Without removal of the cement, the memorial would have continued to splay outwards and would eventually be at risk of collapse.
The displaced plinth stones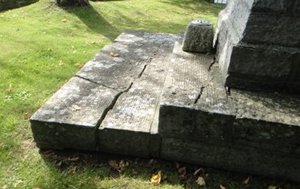 within the memorial were carefully removed and cleaned of soil, cement mortar and organic matter. The fractured stones were also cleaned of residue and pinned together using stainless steel rods set in epoxy resin and lime grout. The memorial was re-assembled and the joints were re-pointed using a lime mortar. The monument was then wrapped in a hessian to allow the lime mortar to slowly set without being damaged by water or frost.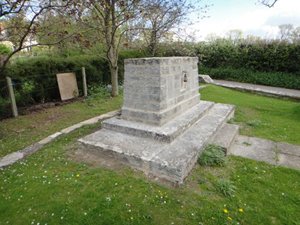 The war memorial and the garden of remembrance were designed by Captain W F Dickinson FRIBA of Kingweston and built of local stone by Jack Gibbs and other men of the village and assisted by boys from the village school. It was dedicated on 28th June 1930.
Further information
War Memorials Trust reference WM5188
UK National Inventory of War Memorials: 24828
War Memorials Online: 140777
If you have a concern about this memorial please contact the Trust on conservation@warmemorials.org