Showcase result
Lichfield Remembrance Garden
Town or City: Lichfield
County: Staffordshire
Country: England
WMT Reference Number: WM3497
Value of grant: £9287.00
Type of memorial: Freestanding
Type of work: Conservation and repair
Grant scheme: English Heritage/Wolfson Foundation Grants
Year: 2009

UKNIWM reference number: 13444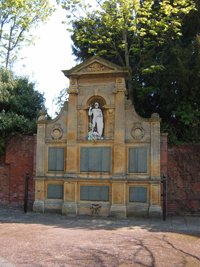 Lichfield Remembrance Garden is located by the side of Minster Pool and is listed Grade II on the English Heritage Register of Parks and Gardens. The surrounding garden walls, balustrade, gate and war memorial screen are Grade II listed structures. The list description states that the walls, balustrade and gate predate the memorial screen being from the eighteenth and nineteenth centuries. The war memorial is in the form of a large stone screen. It is detailed with classical pilasters and pediment with a central figure of St George constructed from Portland stone. Below are slate plaques with incised names painted gold.

In 2009 an application was made to the Grants for War Memorials Scheme for funding towards a program of repair to the war memorial and the wider Garden of Remembrance. The works included cleaning, re-pointing and repairing the war memorial. Some of the detailing had degraded and been lost over time. In addition St George's metal lance had caused some staining to the stone and was in need of conservation.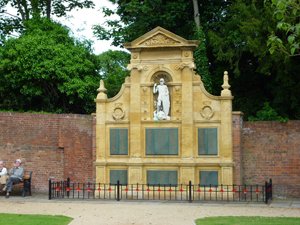 Works to the wider Remembrance Garden included stabilisation and re-building of the gate piers and balustrade. The proposals formed part of a wider project for the Remembrance Garden and the associated linked open spaces which form the wider park. This project had successfully received grant funding through the Heritage Lottery Fund. The Grants for War Memorials Scheme offered the maximum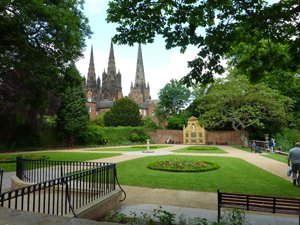 grant available at the time of £10,000 towards the freestanding memorial elements of the project which totalled just over £60,000. The final grant payment upon completion was for £9,287. The overall project was given an award by the British Association of Landscape Industries in 2012.

The Remembrance Garden and war memorial were designed by Mr C E Bateman of Birmingham. Work began on the Garden of Remembrance in 1919 and the memorial was dedicated in 1920 in commemoration of the fallen from World War I with World War II dedication and names being added later. The memorial screen was constructed and carved by Bridgeman and Sons, Lichfield.
Further information
War Memorials Trust reference WM3497
UK National Inventory of War Memorials: 13444
War Memorials Online
www.warmemorialsonline.org.uk/node/110351

The National Heritage List
list.english-heritage.org.uk/resultsingle.aspx
list.english-heritage.org.uk/resultsingle.aspx
If you have a concern about this memorial please contact the Trust on conservation@warmemorials.org