Showcase result
Tiverton
Town or City: Tiverton
County: Cheshire
Country: England
WMT Reference Number: WM4248
Value of grant: £337.00
Type of memorial: Freestanding
Type of work: Conservation and repair
Grant scheme: Small Grants Scheme
Year: 2011

UKNIWM reference number: 2055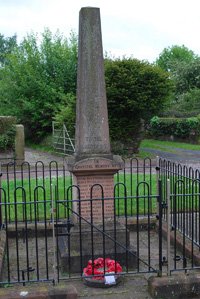 The memorial is situated in a small green bounded by Stocks Bank and Huxley Lane, in the centre of Tiverton. It is a simple obelisk on a plinth which sits on a single tier step. It is made of sandstone. It stands in a slab-paved enclosure bordered with a raised curb surmounted by metal railing fence and gate painted black. The front faces of the memorial have the names of those killed in World Wars I and II incised and painted black.
In 2011, a grant of £337 was offered through the Small Grants Scheme towards cleaning and re-lettering works because the deposits on the memorial were making the inscriptions difficult to read. Cleaning was undertaken using the DOFF steam cleaning system. When required, for the more resilient pollution deposits, the TORC system was applied; a process that uses a low pressure vortex of air, water and inert fine granulate. This is sometimes required for cleaning sandstone because deposits on sandstone are not water soluble and therefore may require more aggressive cleaning. The lettering was then re-painted in a suitable black paint to match the original.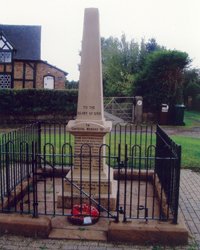 Funding for the memorial was obtained through public subscription following approval by the Parish Council in 1919. Care and custody of the memorial was entrusted to the Parish Council in 1920.
At the foot of the front face the shaft is inscribed:
"To the
glory of God"
The front face of the plinth bears the inscriptions:
"In
grateful memory of"
The names of twelve men commemorated
"of Tiverton who gave their lives for
King and country in the Great War
1914 – 1918"
The front faces of the step are inscribed with the dates "1939 – 1945" under which is the name of one man killed during World War Two. Beneath this is the epitaph:
"Greater love hath no man than this"
Further information
War Memorials Trust reference WM4248
UK National Inventory of War Memorials: 2055
War Memorials Online: 120503
If you have a concern about this memorial please contact the Trust on conservation@warmemorials.org