Showcase result
Silkstone
Town or City: Silkstone
County: South Yorkshire
Country: England
WMT Reference Number: WM2741
Value of grant: £420.00
Type of memorial: Freestanding
Type of work: Surveys
Grant scheme: WMT Grant Scheme
Year: 2016

UKNIWM reference number: 28120
This war memorial is a stone Latin cross on a stepped plinth and base. It is located in Martin Croft, in Silkstone, South Yorkshire. It is dedicated in memory of those who served in World Wars I and II.
In 2008, War Memorials Trust gave a grant of £1,664 to improve wheelchair access to the memorial as it was required to climb a step to access the memorial. This involved excavating for a new ramp, installing the ramp and laying York stone flags which are sympathetic to the materials of the memorial.
In 2016 a grant of £420 was awarded through the War Memorials Trust Grants Scheme towards a Professional Advice Grant for a site investigation, production of a Structural Report and methods for repair if necessary.
In 2017 a grant of £1,530 was awarded through the War Memorials Trust Grants Scheme towards a plumb line survey, stone indent repairs, lime mortar pointing and gentle cleaning. A condition required that SmartWater was applied to protect the lead lettering from theft. The plumb line survey is expected to be undertaken every year in future to monitor the condition of the memorial and previous repairs and check for any gradual movement that might need addressing in future.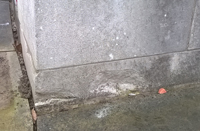 The inscription in the centre section of the upper plinth tier reads "In Memory" with the dates "1914" and "1919" inscribed in the stepped edges. The centre panel of the lower plinth tier bears the names of the 12 men killed during the World War 1. In the panel to the right are the names, added in November 2007, of 2 men who also died in this war. The left panel is inscribed with the dates "1939 – 1945", underneath which are the names of 3 men commemorated from the World War II.
The memorial was designed by Mr L. H. Bucknell of London and it was sculpted by Mr Gelder of Silkstone Common. The memorial was paid for by public subscription. It was first unveiled on 5th November 1922 and dedicated by Canon Richard Phipps.
The memorial was originally located on Church Hill but because of its proximity to the road and damage caused to it, the memorial was moved to its present location in 1972. A re-dedication ceremony was held by Rev. Derek Birch.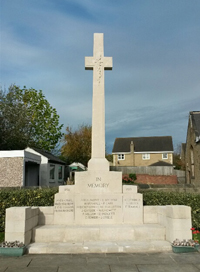 In 1986 the cross was badly damaged by children playing on the memorial; in order to facilitate its re-construction it was necessary to shorten the cross-shaft.
Further information
War Memorials Trust reference WM2741
UK National Inventory of War Memorials: 28120
War Memorials Online: 96096
If you have a concern about this memorial please contact the Trust on conservation@warmemorials.org