Showcase result
Marsworth
Town or City: Marsworth
County: Buckinghamshire
Country: England
WMT Reference Number: WM242
Value of grant: £439.00
Type of memorial: Freestanding
Type of work: Conservation and repair
Grant scheme: Small Grants Scheme
Year: 2010

UKNIWM reference number: 8013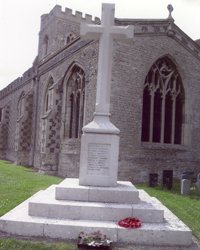 Located in All Saints' Churchyard and overlooking the Vicarage Road/Church Lane road junction, the memorial is a simple Latin cross supported by a plain bevelled base that rests on an elongated square plinth. The faces of the plinth are recessed and inscribed. The whole is of Portland stone and sits on a three-stepped base.
In 2010, a grant of £439 was offered through the Small Grants Scheme towards cleaning as the inscriptions were difficult to read and growth of moss along joint lines suggested there may be open joints; therefore cleaning was required to be able to assess the condition. Cleaning was carried out with low pressure de-ionised water and non-metallic brushes. Once cleaned the memorial was inspected for open or failed joints and damaged or otherwise illegible lettering. All joints were found to be sound and lettering legible so no further works were deemed necessary.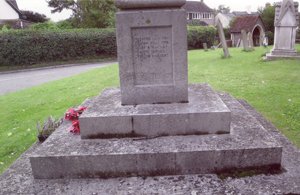 The architect of this memorial was Mr A J Gurney of Marsworth and the Portland stone was gifted by Mr N W Mead. The cost of preparing and erecting the stone was around £140, which was obtained through public subscription. The memorial was unveiled by Lord Rothschild during a service conducted by the vicar of Marsworth on 7th August 1921. The hymn "O God our help in ages past" was sung, The 'Last Post' was sounded by buglers of the Wendover Boys Brigade and the National Anthem was also sung. An article detailing the unveiling was published in the Saturday 13th August 1921 edition of the Bucks Herald.
The front face of the plinth bears the eleven names of those who fell in the First World War.
The left face of the plinth is inscribed:
"Greater love hath
no man than this,
that a man lay
down his life
for his friends"
The rear face of the plinth is inscribed with the names of three people who were killed in World War Two.
The right face of the plinth bears the inscription:
"In
grateful memory
of
the men of this
village who fell in
the Great War of
1914 – 1918"
Further information
War Memorials Trust reference WM242
UK National Inventory of War Memorials: 8013
War Memorials Online: 115306
If you have a concern about this memorial please contact the Trust on conservation@warmemorials.org