Showcase result
Aindale-on-Sea
Town or City: Ainsdale-on-Sea
County: Merseyside
Country: England
WMT Reference Number: WM6364
Value of grant: £630.00
Type of memorial: Freestanding
Type of work: Conservation and repair
Grant scheme: Small Grants Scheme
Year: 2012

UKNIWM reference number: 22267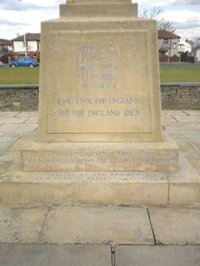 This memorial takes the form of a Celtic cross with a richly carved shaft with interlacing ornamental detailing in low relief. It is situated on the Village Green off Liverpool Road, Ainsdale. The memorial is constructed from Stoke Hall stone, and on the horizontal arms of the Cross on both sides are the dates 1914-1919. The memorial was erected in memory of the 42 men of Ainsdale who died in the Great War between 1914 - 1919.
In 2012, a grant of £630 was offered towards the re-painting of the flush lead lettering, with missing letters being replaced with lead letters to match the existing letters. The loose and defective areas of previously re-pointed cement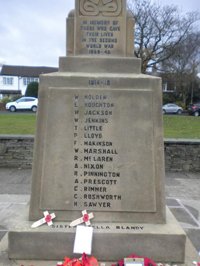 mortar on the memorial were carefully removed using hand tools and replaced with an appropriate lime mortar mix. In conjunction with the In Memoriam 2014 project, SmartWater solution was applied to all metal elements of the memorial, including the lead lettering.
The memorial was made and erected by Mr W Calland, of Birkdale to the designs prepared by Mr H Langman, Architect, Southport. It was dedicated and unveiled on Saturday 27th November 1920 by Lieutenant Colonel White, M.P.
On the front face of the base, facing Liverpool Road is the following inscription:-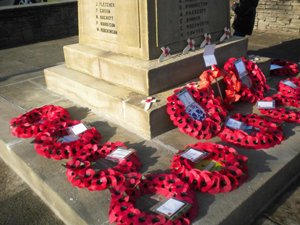 True love by life
True love by death is tried
Live thou for England
We for England died
And below this, on the top step:
Greater love hath no man than this, that a man lay down his life for his friends.
On the remaining three panels of the base are the names of the fallen, arranged in alphabetical order.
Further information
War Memorials Trust reference WM6364
UK National Inventory of War Memorials: 22267
If you have a concern about this memorial please contact the Trust on conservation@warmemorials.org