Showcase result
Hungarton
Town or City: Hungarton
County: Leicestershire
Country: England
WMT Reference Number: WM3414
Value of grant: £905.00
Type of memorial: Freestanding
Type of work: Works to hard landscape
Grant scheme: Small Grants Scheme
Year: 2010

UKNIWM reference number: 37821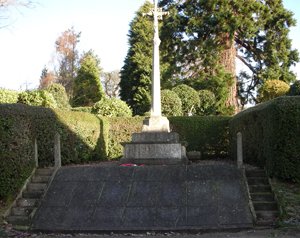 Hungarton war memorial is located on a high bank in front of The Old Rectory, Church Lane, Hungarton. The memorial is made of stone and consists of a three-tier plinth and tapering shaft surmounted by a Calvary. Between each arm of the cross there is decorative carving in a gothic tracery style. The inscriptions are incised in the stone and are located on each tier of the plinth. The memorial is located in a conservation area.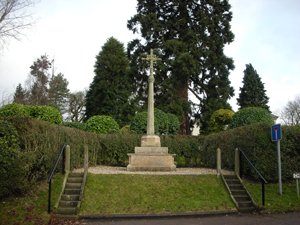 In 2010, War Memorials Trust gave a grant of £905 towards works to improve the legibility of the inscriptions as they had become illegible due to weathering and the deposits on the memorial and also works to improve access to the memorial. These works consisted of cleaning the inscription panels with low pressure deionised water and non-metallic brushes. Often, appropriate cleaning methods can improve the legibility of inscriptions and therefore more invasive methods such as re-cutting lettering can be avoided. Therefore, the condition of lettering should be assessed after cleaning to see whether more invasive work is required. In this case, after that assessment there were a few inscriptions which were still illegible due to the extent they had weathered, and these were sharpened up by hand to improve legibility. In addition, a steel handrail was installed to the outside of both sets of steps to assist in accessing the memorial up the steps. This is a reversible addition and helps to improve access to the memorial whilst allowing it to retain its original design.
The memorial was unveiled on 19th November 1921 by George Warrington who was an ex-serviceman of the village and the memorial was dedicated by the venerable F. B. Macnutt.
Further information
War Memorials Trust reference WM3414
UK National Inventory of War Memorials: 37821
War Memorials Online: 86617
Leicestershire & Rutland War Memorials Project (Leicestershire County Council): WMP0577
If you have a concern about this memorial please contact the Trust on conservation@warmemorials.org