Showcase result
Kingston Library
Town or City: Kingston upon Thames
County:
Country: England
WMT Reference Number: WM4447
Value of grant: £375.00
Type of memorial: Non-Freestanding
Type of work: Restoration
Grant scheme: Small Grants Scheme
Year: 2012

UKNIWM reference number: 000000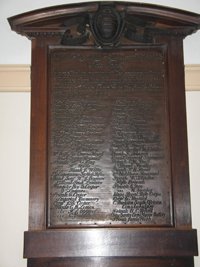 This war memorial consists of a hammered brass tablet on an oak backing surmounted by a bronze crest of the borough arms with bands containing the motto "Dulce et decorum est pro patria mori" which translates "Sweet and honourable it is to die for one's country;" a quote from Roman poet, Horace. The Roll of Honour is on a flat sheet of copper, with the letters having been beaten out, in a technique known as repoussé, which is technically a difficult form of embossment to achieve. The memorial is dedicated to the 34 men of the borough who died in the South African War 1899-1902.
In 2012, a grant of £667.00 was offered for repairs to the memorial tablet. This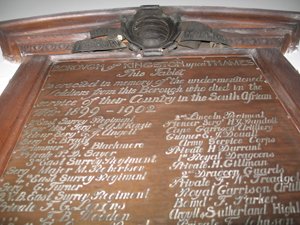 involved carefully removing the tablet from the wall and transporting it back to the workshop. The bronze crest showed signs of active corrosion, so it was removed from the oak board and JOS cleaned, re-patinated then waxed for protection and refixed onto the board. The copper sheet containing the Roll of Honour was in a good condition, in spite of being slightly warped, which is common for this type of finish. On inspection, the contractor believed that it was probably cleaned sometime over the last 120 years with a cutting compound as there were still traces of this left in some of the incised letters. The copper had naturally patinated to a lovely finish, and only required a light clean using a toothbrush to remove traces of residue from between the lettering then an application of microcrystalline wax to its surface. The oak board was re-varnished, then the tablet was returned to the wall of the library.
The memorial was unveiled on 18th June 1903 (Waterloo Day) by the Mayor of Kingston upon Thames, Mr Thomas Lyne. The memorial was paid for using surplus money of a committee that was set up to organise events in celebration of the crowning of King Edward VII in 1902. It was around this time that a new library was proposed for Kingston, so the committee decided that it would be appropriate to put the memorial into the library rather than in the church so that it could be viewed by members of all religions.
The inscription reads: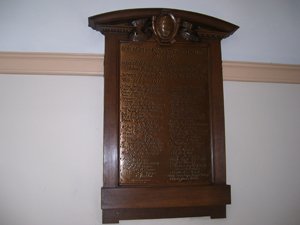 Kingston upon Thames
This tablet
Is erected in memory of the undermentioned
Soldiers from this Borough who died in the
Service of their Country in the South African
War 1899 - 1902
Further information
War Memorials Trust reference WM4447
UK National Inventory of War Memorials:
If you have a concern about this memorial please contact the Trust on conservation@warmemorials.org