Showcase result
Michaelston le Pit
Town or City: Michaelston le Pit
County: South Glamorgan
Country: Wales
WMT Reference Number: WM4206
Value of grant: £2407.00
Type of memorial: Freestanding
Type of work: Conservation and repair
Grant scheme: Small Grants Scheme
Year: 2011

UKNIWM reference number: 6702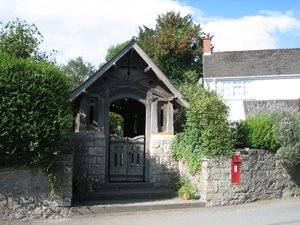 Michaelston le Pit war memorial is an oak lychgate located at the entrance to St Michael and All Angels Church. The lychgate is of typical shape and is entered and exited via double oak gates. The front and rear of the lychgate are decorated with a carved cross, quatrefoils, grapes and leaves. The oak lychgate is set on a stone base and has a Welsh slate roof. The memorial is Grade II listed and located within a conservation area.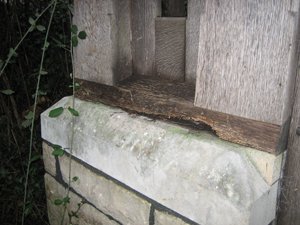 In 2011, War Memorials Trust gave a grant of £2,407 towards a programme of conservation and repair works to the memorial as well as towards fees for an architect to specify and oversee the project.
The main works were replacing rotted pieces of oak like-for-like with new oak. This repair was mainly confined to the sole plates. The oak was also treated against an infestation.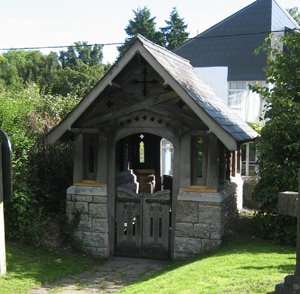 In addition, significant conservation and repair was required to the roof. There were a number of damaged and missing tiles which were letting water into the lychgate and causing staining. The slates were inspected and any broken or missing slates were replaced like-for-like and any loose slates were fixed. The ridges were cleaned and re-bedded in lime mortar. Some of the coping stones on the adjacent walls had moved and these were cleaned by hand and re-bed in lime mortar as well as any open joints being re-pointed in lime mortar. Whilst on site it became evident that the wall of the memorial on the side of the Churchyard had more significant movement problems than initially realised so this had to be dismantled, small foundations were prepared, and the wall was rebuilt using the original stones. A Faculty was required for the works.
There is a carved inscription on the front of the lychgate which reads:
"Greater love hath no man than this
That a man lay down his life for his friends".
A small brass plaque inside the lychgate reads:
"This lychgate
was dedicated
June 28th 1920
to the glory of God
and
in memory of those
who fell and served
in the
Great War 1914-1919."
Further information
War Memorials Trust reference WM4206
UK National Inventory of War Memorials: 6702
If you have a concern about this memorial please contact the Trust on conservation@warmemorials.org