Showcase result
Devizes and Roundway
Town or City: Devizes
County: Wiltshire
Country: England
WMT Reference Number: WM3047
Value of grant: £1810.00
Type of memorial: Freestanding
Type of work: Adding and/or correcting inscriptions/names
Grant scheme: Small Grants Scheme
Year: 2010

UKNIWM reference number: 24091
This war memorial is in the form of a classical style curved wall with central arch in the style of a simple triumphal arch and constructed in Doulting stone; the memorial is accessed by two steps. The bronze inscription plaques are located within shallow recesses in the wall and the names of the fallen are in relief. In the central section of the arch there is a stone plinth carrying a bronze urn and dedicatory plaques. The memorial is located in a garden bordered by railings on Long Street, which is adjacent to the Parish Room dating from 1890 and moments away from the church. Surprisingly the memorial is not currently listed, but it is located within a conservation area.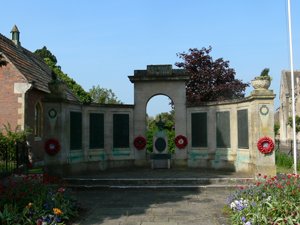 In 2010, War Memorials Trust gave a grant of £1,810 towards a project to add the names of the fallen post 1939; the memorial only had the names of those killed in World War I. There was space on the memorial for the names to be added sympathetically and in-keeping with the scale and design and importantly the classical symmetry of the memorial. Bronze plaques were added below the World War I plaques and the names are recorded in the same style as existing. Non-ferrous anti-theft fixings were also used to keep the plaques secure.
The names of those to be recorded were extensively researched by the Royal British Legion and the community supported the proposal. As part of the project a regular maintenance programme is being instigated and the insurance value of the memorial will be reviewed. This demonstrates how a conservation project can stimulate awareness for the memorial with the community planning to ensure its long-term protection.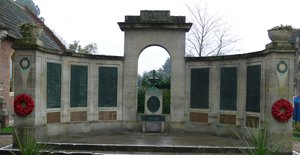 The memorial was designed by the architect Francis William Troup who (contrary to this design) was a member of the Arts and Crafts movement. The memorial was built by Messrs Morgan and Sons and the bronze plaques were cast by Humphrys & Oakes foundry. The memorial was dedicated and unveiled by the Lord Lieutenant of Wiltshire, Viscount Long, on 13th November 1922.
The original inscription on the memorial reads:

"Men of Devizes and Roundway
who fell in the war
1914 – 1919"

Additional plaques read:

"Also those who fell in the war 1939 – 45"

"In memory of the men and women
Who gave their lives for their country since 1945"
Further information
War Memorials Trust reference WM3047
UK National Inventory of War Memorials: 24091
If you have a concern about this memorial please contact the Trust on conservation@warmemorials.org