Showcase result
Membury
Town or City: Axminster
County: Devon
Country: England
WMT Reference Number: WM3119
Value of grant: £1380.00
Type of memorial: Freestanding
Type of work: Conservation and repair
Grant scheme: Small Grants Scheme
Year: 2010

UKNIWM reference number: 25353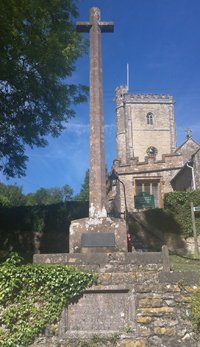 This war memorial cross is located outside St John the Baptist Church in Membury, Devon. The memorial consists of a cross on a plinth and two-stepped base. The shaft of the cross and plinth are made from limestone and the steps are made of lias limestone, which is a local stone originally quarried from the now closed Tolcis quarry close to Membury. There is a metal plaque on the memorial dedicated to those killed in World War II and there is also a stone tablet on the wall in front of the memorial which holds the dedicatory inscription for World War I. The memorial is located within a conservation area as well as an Area of Outstanding Natural Beauty.
In 2010, War Memorials Trust gave a grant of £1,380 towards conservation and repair works to the memorial. The main concern was the condition of the steps. These had suffered from frost damage and were cracked and split and there was also a large amount of open joints. If the cracks and joints remain open the memorial would just continue to suffer from further frost damage and water ingress and deteriorate further. Therefore the grant works included initially cleaning the memorial with low-pressure deionised water and non-metallic brushes to remove the large amount of vegetation, moss and biological growth on the memorial to assess its condition and to be able to undertake the repairs. All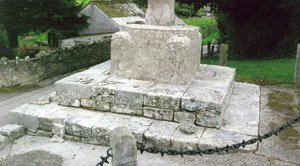 failed joints were raked out by hand and re-pointed in lime mortar. There were four stones which were so badly damaged that they could not be repaired and were replaced in matching Tolcis stone. The remainder of the cracks were repaired with resin. The stone inscription tablet was cleaned in the same manner as the memorial and a crack on the plaque was repaired with polyester resin and a previous cement repair which had failed was repaired with lime mortar.
The memorial is believed to have been erected in 1921. The inscription on the World War I tablet reads:
In memory of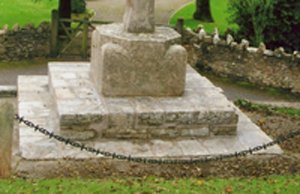 the sacrifices made
during the Great War
August 1914 November 1918
By this sign thou shalt
conquer
Further information
War Memorials Trust reference WM3119
UK National Inventory of War Memorials: 25353
If you have a concern about this memorial please contact the Trust on conservation@warmemorials.org