Showcase result
Longhope
Town or City: Longhope
County: Gloucestershire
Country: England
WMT Reference Number: WM3825
Value of grant: £650.00
Type of memorial: Freestanding
Type of work: Conservation and repair
Grant scheme: Small Grants Scheme
Year: 2010

UKNIWM reference number: 20615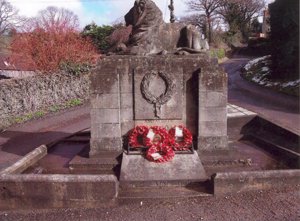 Longhope war memorial stands at the junction of Old Hill, Hopes Hill and Monmouth Road. The memorial is a limestone and sandstone plinth upon which sits a sandstone sculpture of a lion. The plinth carries the carved dates of World War I and World War II and a relief carving of a laurel wreath. The names of the fallen are carved into a stone tablet which rests at the base of the plinth. The memorial stands in a small paved enclosure. The memorial is Grade II listed.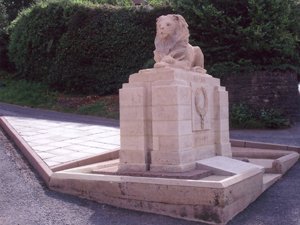 In 2010, War Memorials Trust gave a grant of £650 towards works to the memorial which included cleaning the memorial by hand with de-ionised water and non-metallic bristle brushes. Low pressure water washers could be used if hand cleaning was insufficient but high pressure washing was not permitted as it can damage the stone. Cleaning was required as there were pollution deposits on the memorial as well as some lichen which were obscuring the inscriptions. The defective joints were raked out by hand and re-pointed with a lime based mortar mix to match the original in colour, texture and finish. No cement was allowed in the mortar mix as this can cause damage to a historic monument. Where letters needed to be re-cut this was undertaken with hand tools. Repairs to the concrete apron were undertaken with matching concrete as that was the same material as the original.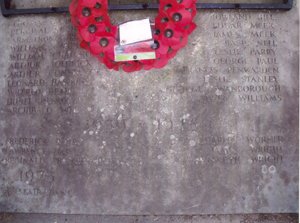 Although the memorial is listed, Listed Building Consent was not required as the works were deemed as repair work.
The memorial was erected in the 1920s and was built by Walter Davis of Hereford.

The inscription reads:

"1914 – 1918
And also of 1939 – 1945
We will remember them"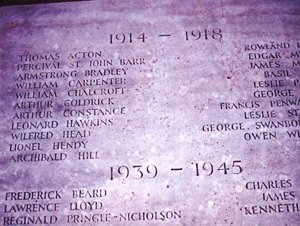 Further information
War Memorials Trust reference WM3825
UK National Inventory of War Memorials: 20615
Listing description for memorial: www.heritagegateway.org.uk/Gateway/Results_Single.aspx
If you have a concern about this memorial please contact the Trust on conservation@warmemorials.org