Showcase result
Hemsby
Town or City: Great Yarmouth
County: Norfolk
Country: England
WMT Reference Number: WM1828
Value of grant: £335.00
Type of memorial: Freestanding
Type of work: Works to hard landscape
Grant scheme: Small Grants Scheme
Year: 2006

UKNIWM reference number: 56466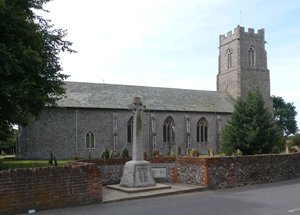 The war memorial in the Norfolk village of Hemsby, which lies between the Norfolk broads and the sea, stands in a paved recess in the brick and cobblestone wall surrounding the churchyard of St Mary the Virgin. It is a stone wheel cross on a plinth on a very shallow square base. An inscription on the front face of the base commemorates World War I and lists the fallen and two Portland stone plaques set into the wall behind the memorial record a dedication and list of names of World War II. There is an Old Testament quotation running along the wall above these plaques.
In April 2006 War Memorials Trust gave a grant of £335 towards work to underpin the wall, to repair cracks in the wall and to repaint existing the inscriptions on the wall plaques.
The text on these wall plaques reads
In memory of
Those who gave their lives
In the world war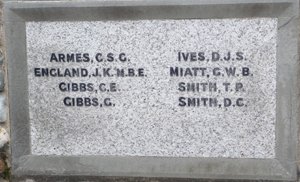 1939 – 1945
Armes C.S.G. Ives D.J.S.
England J.K., M.B.E. Miatt G.W.B.
Gibbs C.E. Smith T.P.
Gibbs G. Smith D.C.
The Bible quotation on the wall is from 1 Samuel 25 verse 16
They were a wall unto us both by night and day
The text on the front face of the plinth reads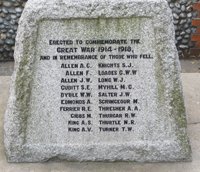 Erected to commemorate the
Great War 1914 -1918
and in remembrance of those who fell
Allen A.C. Knights S.J.
Allen F. Loades G.W.W.
Allen J.W. Long W.J.
Cubitt S.E. Myhill M.C.
Dyble W.W. Salter J.W.
Edmonds A. Scrimgeour M.
Ferrier R.E. Thresher A.A.
Gibbs M. Thurgar R.W.
King A.S. Thurtle N.R.
King A.V. Turner T.W.
The memorial was built in the early 1920s and the World War II names added to the wall in the late 1940s.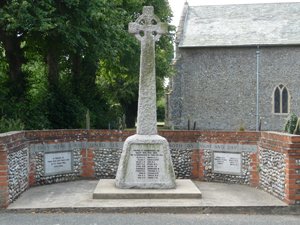 Further information
War Memorials Trust reference WM1828
UK National Inventory of War Memorials: 56466
If you have a concern about this memorial please contact the Trust on conservation@warmemorials.org