Showcase result
Shotesham
Town or City: Shotesham
County: Norfolk
Country: England
WMT Reference Number: WM3099
Value of grant: £3947.00
Type of memorial: Freestanding
Type of work: Conservation and repair
Grant scheme: English Heritage/Wolfson Foundation Grants
Year: 2009

UKNIWM reference number: 20224
T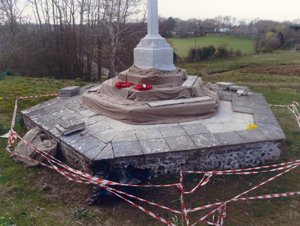 his war memorial is a limestone Latin cross with a moulded plinth and three stepped base. Names are cut into each step of the memorial. The whole memorial sits upon a raised platform with outer brick wall.
The memorial is located outside the parish church, high on a hill overlooking the village of Shotesham in Norfolk.
The main problem with the memorial was that at some point in the past, the original coping of the wall and gravel had been removed and replaced with concrete slabs. In addition, some inappropriate cement repairs had been undertaken to the brick wall. Both the slabs and the cement were impermeable and as such, had a 'suffocating effect' on the wall. Any water that entered behind the wall could only exit via the faces of the bricks as these were the most permeable parts of the structure. Over time the bricks began to crumble due to this process and frost damage, causing the wall to decay.
A grant offer was made for £3,947 to reconstruct the wall to the original design. The evidence for the original design came from a historic photograph belonging to one of the villagers. The whole wall was taken down and the foundations re-built. The structure was re-built using the original flints and the addition of new brick copings. New gravel was also laid over an anti-vegetation membrane.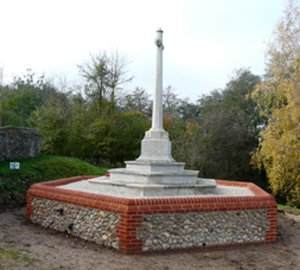 The memorial was built by Perfitts of Long Stratton in Norfolk. The design was by Mr L. Hicks, an architect from Newcastle upon Tyne. The costs of the memorial were met by public subscription.
The memorial is dedicated to those who fell in World War I and was unveiled on 5th September 1920.
The inscription reads:
Charles W. Cheney
Alfred Clarke
Benjamin Clarke
Harry Codling
Robert Fellowes
George R. Flint
Frederick J. Goodwin
John Hewgill
William B. Lane
Joseph A. Larter
Harry G. Mayhew
Samuel A. Pearce
H. Percival Pett
Cecil J. Randell
Cecil Twite
Leonard Wicks
Robert Youngman
William Youngman
Further information
War Memorials Trust reference WM3099
UK National Inventory of War Memorials: 20224
If you have a concern about this memorial please contact the Trust on conservation@warmemorials.org