Showcase result
March
Town or City: March
County: Cambridgeshire
Country: England
WMT Reference Number: WM161
Value of grant: £728.00
Type of memorial: Freestanding
Type of work: Adding and/or correcting inscriptions/names
Grant scheme: Small Grants Scheme
Year: 2009

UKNIWM reference number: 3472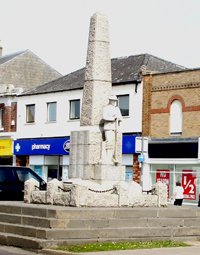 March war memorial is a Cornish granite obelisk on a four-stepped base located on Broad Street in an island site in the road. The obelisk has inscription panels on the sides of the plinth, and there is a figure of a soldier resting his hands on an upturned Lee Enfield rifle in front of the obelisk. The figure of the soldier is constructed from White Sicilian Marble. The memorial is surrounded by low granite pillars linked by chains.
In 2009, War Memorials Trust offered a grant of £728 towards the addition of two Cornish granite plaques on the east and west elevations with raised lead lettering and painted black, to match the existing lettering on the memorial in typeface and style. The granite plaques also matched the stone currently on the memorial to remain sympathetic to the design. These additional plaques were required so that the names of nineteen men from March who were killed in World War I could be added, who were not previously commemorated on the memorial. Two missing lead letters were also replaced on the memorial.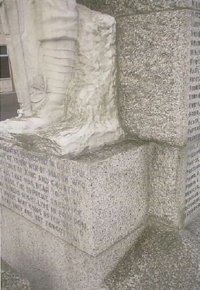 This memorial was funded by public subscription and cost £900; it was designed and sculpted by Mr W. G. Storr-Barber of Leominster (who was a private in the Royal Marines during World War I). The memorial was unveiled and dedicated in a ceremony on 19th June 1921; the unveiling was conducted by Captain Colin Reith Coote, and the dedication was carried out by The Reverend S. S. Walton. The memorial was later added to for commemoration of those killed in World War II.
The memorial is a grade II listed structure, and therefore Listed Building Consent was required for the addition of the new plaque and names as this is an 'alteration' to the design of the memorial.
The inscription on the memorial reads:
This monument is erected in grateful
memory of those men of March who
at the call of King and Country
left all that was dear to them.
They made the supreme sacrifice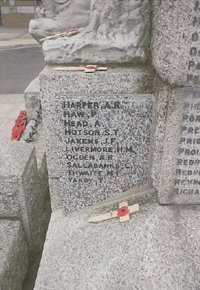 that others might live in freedom.
Let those that come after see to
it that they are not forgotten
The names of the fallen are recorded on the memorial.
Further information
War Memorials Trust reference WM161
UK National Inventory of War Memorials: 3472
If you have a concern about this memorial please contact the Trust on conservation@warmemorials.org