Showcase result
Reigate
Town or City: Reigate
County: Surrey
Country: England
WMT Reference Number: WM108
Value of grant: £1023.00
Type of memorial: Freestanding
Type of work: Conservation and repair
Grant scheme: English Heritage/Wolfson Foundation Grants
Year: 2009

UKNIWM reference number: 000000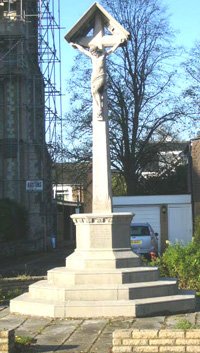 Reigate war memorial is a seventeen foot calvary made from Hopton Wood stone. It consists of three octagonal steps leading to an octagonal plinth upon which the inscription for the memorial is incised into the stone. Surmounting the plinth is a Latin cross with figure of Christ and pitched roof. The memorial is located on Alma Road within a small walled garden adjacent to St Mark's Church, and is located within the Somers Road Conservation Area.
In 2009, a grant of £1,023 was offered through the Grants for War Memorials scheme for cleaning the memorial with a nebular spray to soften the pollutants which were on the memorial and then cleaned off with a non-metallic brush. The deposits were washed off with low pressure water or steam. The paving which surrounds the memorial was cleaned with high pressure water and mild detergents. Finally, any defective joints on the memorial and base were raked out and re-pointed with a hydraulic lime mortar mix to match the existing in colour and texture.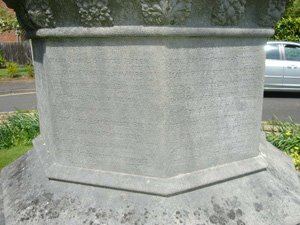 The architects for the memorial were Messrs. Hicks and Charlewood of Newcastle-on-Tyne and the work was carried out by Messrs. J. Underwood and Son, monumental masons, of London.
As reported in the 'Surrey Mirror and County Post', at the dedication of the memorial there were various groups present such as relatives of those killed, officers, non-commissioned officers, men of The Queen's (Royal West Surrey) Regiment, representatives of the Church Lads' Brigade and Boy Scouts, the Mayor and Mayoress of Reigate, Town Clerk, and Head Constable. The dedication service was led by the Rev R. M. Faithfull Davies, the Vicar of St Mark's Church. The dedication ceremony was undertaken by the Rev H. G. Hill, he highlighted that the memorial calvary '..stood for life and not for death, that Christ died that we might live. "He was dead and is alive." ' During the dedication ceremony the memorial was flanked by the Union Jack and the flag of St George, a large wreath of laurel was placed on the base and two vases of white flowers.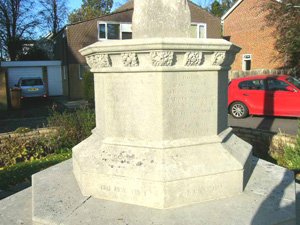 The general inscriptions on the memorial read:
'Greater love hath no man than this'

'To the
glory of God
and in loving and
grateful memory of
those who for, our
country, our homes,
and for us,
gave their lives in
the Great War
1914 – 1919'

Inscribed around the base is: 'May the souls of the faithful, through the mercy of God, rest in peace. Grant unto them, O Lord, eternal rest, and let light perpetual shine upon them.'
Further information
War Memorials Trust reference WM108
UK National Inventory of War Memorials: Unknown
If you have a concern about this memorial please contact the Trust on conservation@warmemorials.org