Showcase result
Wallington
Town or City: Wallington
County: Surrey
Country: England
WMT Reference Number: WM1596
Value of grant: £900.00
Type of memorial: Freestanding
Type of work: Conservation and repair
Grant scheme: English Heritage/Wolfson Foundation Grants
Year: 2005

UKNIWM reference number: 12541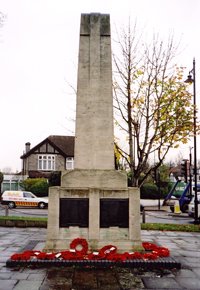 The war memorial to the men of Beddington and Wallington is a Portland stone obelisk on a plinth, on a rectangular base. A cross is carved in low relief on the front of the obelisk, the relief deepening as the stone narrows towards the top. On the plinth is a sunburst design. The carvings on the memorial have a simple Art Deco feel. There are bronze plaques around the faces of the base. The monument stands on blue Staffordshire Engineering bricks and York stone on a paved area on Wallington Green, at the junction of Manor Road and Acre Lane in Wallington, Surrey.
Although the structure of the memorial was sound moss was forming on the memorial and permeating the joints. In August 2005 English Heritage and the Wolfson Foundation gave £900 towards work to clean the memorial with a high pressure steam cleaning system.
The dedication on the memorial reads
1914 – 1918
To the
glorious memory
of the men of
Beddington and Wallington
who fell in the
Great War
They died that we
might live
A second dedication plaque was added after World War II. On the other plaques are the names of the fallen.
The memorial was unveiled by Lieut Gen Sir Edmund Elles GCIE, KCB in March 1922. Further inscriptions were added in 1949 to commemorate the fallen of World War II.
Further information
War Memorials Trust reference WM1596
UK National Inventory of War Memorials: 12541
If you have a concern about this memorial please contact the Trust on conservation@warmemorials.org