Showcase result
Hexham Abbey Garden of Remembrance gates
Town or City: Hexham
County:
Country: England
WMT Reference Number: WM2984
Value of grant: £750.00
Type of memorial: Non-Freestanding
Type of work: Conservation and repair
Grant scheme: Small Grants Scheme
Year: 2009

UKNIWM reference number: 34066
Hexham Abbey Garden of Remembrance is located on Beaumont Street, Hexham. The memorial is dedicated to the members of the 4th and 8th Battalions of the Royal Northumberland Fusiliers killed in World War II. The gardens also contain a dedicatory plaque and decorative steel gates which have scroll detailing and spikes, between the spikes are the numbers '1939' and '1945'. The site of Hexham Abbey is a Scheduled Monument. The grant for this memorial was in relation to the gates.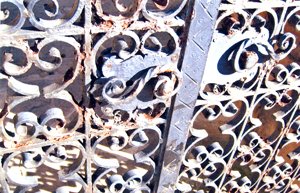 In 2009, War Memorials Trust gave a grant of £750 from the Small Grants Scheme towards repair works to the gates. Water had entered behind the paint on the gates and rusted the steel, resulting in the loss of some of the steelwork and detailing. Therefore, the works carried out to the gates to remedy this problem was that they were removed from the site and shot blasted to clean the metalwork. The scrolls were repaired where possible, but those which were beyond repair were replaced to the original design. The gates were primed and re-painted, and then returned to the site and re-hung.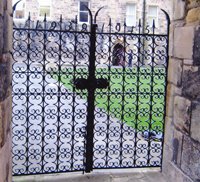 The Garden of Remembrance was designed by Major Guy L. Bradley of 4th Battalion Northumberland Fusiliers. It was dedicated on Remembrance Sunday 1952, and Lord Allendale unveiled the memorial plaque. The decorative gates which were the subject of this grant were hung in November 1953.
Further information
War Memorials Trust reference WM2984
UK National Inventory of War Memorials: 34066
North East War Memorials Project: www.newmp.org.uk/detail.php
If you have a concern about this memorial please contact the Trust on conservation@warmemorials.org