Showcase result
Kingston-upon-Thames
Town or City: Kingston-upon-Thames
County: Greater London
Country: England
WMT Reference Number: WM1539
Value of grant: £3000.00
Type of memorial: Freestanding
Type of work: Conservation and repair
Grant scheme: English Heritage/Wolfson Foundation Grants
Year: 2005

UKNIWM reference number: 12100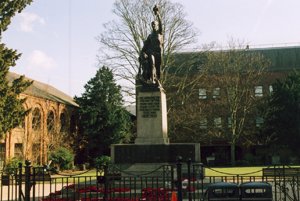 The Grade II listed war memorial in Kingston-upon-Thames is a bronze nude sculpture of a man trampling upon a serpent, with his left arm upraised holding a flaming torch, his right holding a sword. Two children shelter beside him. An inscription runs around the base of the sculpture. The figures are on a granite plinth on a three-stepped base and metal panels on the plinth record the names of the fallen. The memorial stands in the War Memorial Gardens on Union Street.
Over time green corrosive compounds had built up on the sculpture so in 2005/6 English Heritage and the Wolfson Foundation offered a grant of £3,000 towards work to clean the bronze sculpture and the stonework, to re-patinate and wax the sculpture and also to rake out and re-point any damaged areas of stonework.
The dedication on the front of the plinth reads:
"In honour of
the men of this
town who gave
their lives in
the great wars
1914 – 1919
1939 – 1945"
The inscription around the bottom of the sculpture reads
"At the going down of the
sun and in the morning
we will remember them"
The memorial was designed in 1920 and the sculptor was Richard Reginald Goulden, who had enlisted with the Royal Engineers in World War I but had been invalided out. He designed a number of war memorials around the country.
Further information
War Memorials Trust reference WM1539
UK National Inventory of War Memorials: 12100
Heritage Gateway listing record: 203193
Information about the sculptor Richard Reginald Goulden
If you have a concern about this memorial please contact the Trust on conservation@warmemorials.org