Showcase result
Sheffield (Barker's Pool)
Town or City: Sheffield
County: South Yorkshire
Country: England
WMT Reference Number: WM1576
Value of grant: £9354.00
Type of memorial: Freestanding
Type of work: Conservation and repair
Grant scheme: English Heritage/Wolfson Foundation Grants
Year: 2005

UKNIWM reference number: 2220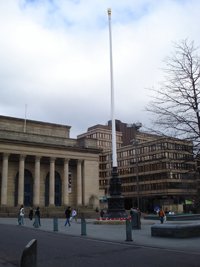 Grade II listed war memorial at Barker's Pool in Sheffield city centre consists of a 90ft flagpole with a very ornate base. On this base, four life-size bronze soldiers face outward with heads bowed and rifles reversed. As well as foliate decoration with acanthus and laurel leaves, the base is sculpted with emblems of the Army, the Navy, the Air Force, the Yorkshire Dragoons, the Royal Artillery, Royal Engineers, Machine Gun Corps, Tank Corps, York and Lancaster Regiment, Medical Corps and the Royal Army Service Corps. The paving and plinth below this are made of Derbyshire Hopton Wood stone. The flag pole is a mild steel ship's mast and is topped off by a finial coronet. The memorial stands next to the City Hall.
In July 2005 English Heritage and the Wolfson Foundation offered a grant of £9354 towards repair and restoration of all elements of the memorial. The stone paving and plinth were cleaned with water and biocide and mortar re-pointed and new stone indents inserted where necessary. However, shrapnel damaged caused to the memorial in World War II was left untouched. The steel mast was rubbed down and the corrosion treated, and it was then primed and painted and the finial coronet re-gilded. The separate elements of the mechanism for raising the flag were repaired or replaced and the bronze sculpture cleaned and coated with protective wax.
The memorial was commissioned, designed and constructed between 1922 and 1925. The costs - £5435 – were raised through a Lord Mayor's appeal. The architect was Charles Carus Wilson and the bronze sculptor George Alexander. A dedication service was held on Wednesday 28th October 1925 led by the bishop of Sheffield. The memorial was unveiled by Gen Sir Charles H Harrington, GOC Northern Command.
Further information
War Memorials Trust reference WM1576
UK National Inventory of War Memorials: 2220
The memorial is listed building number 455365
This memorial is featured in Derek Boorman's book A Century of Remembrance
If you have a concern about this memorial please contact the Trust on conservation@warmemorials.org