Showcase result
Crick
Town or City: Crick
County: Northamptonshire
Country: England
WMT Reference Number: WM418
Value of grant: £4200.00
Type of memorial: Freestanding
Type of work: Conservation and repair
Grant scheme: English Heritage/Wolfson Foundation Grants
Year: 2007

UKNIWM reference number: 14883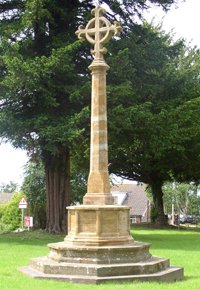 The war memorial in the village of Crick in western Northamptonshire is a Northamptonshire ironstone (Horton brown stone) wheel cross fleury on a pillar. It stands on an octagonal plinth and a three-stepped base. There are inscriptions at the base of the shaft and around the sides of the plinth commemorating those who died in both world wars and in Northern Ireland. The memorial stands in the churchyard, south west of St Margaret's church.
The stone had cracked, flaked and eroded due to age (Horton brown stone is not the most durable stone) and in 2006/7 English Heritage and the Wolfson Foundation made a grant of £4,200 towards work to renovate the war memorial by dismantling it, piecing in new stone to replace those pieces of the steps and the pillar which were badly damaged, to replace the plinth and the cap stone with new stone and to pin and glue the cross. In all cases the stone matched the original as far as possible.
The memorial was erected by public subscription in 1920. It was designed by Mr W J Pullen and constructed by J G Pullen and Sons of Northampton. The unveiling took place on 31st October 1920 and was performed by Gen Lord Horne of Stirkoke. After the memorial was restored a rededication service was held on the evening of Monday 13th August 2007, attended by sixty villagers including relatives and widows of the men commemorated on the monument.
Further information
War Memorials Trust reference WM418
UK National Inventory of War Memorials: 14883
If you have a concern about this memorial please contact the Trust on conservation@warmemorials.org