Showcase result
West Walton
Town or City: West Walton
County: Norfolk
Country: England
WMT Reference Number: WM1824
Value of grant: £490.00
Type of memorial: Freestanding
Type of work: Conservation and repair
Grant scheme: English Heritage/Wolfson Foundation Grants
Year: 2006

UKNIWM reference number: 000000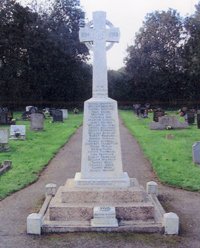 The memorial in the village of West Walton in the Norfolk fens, on the border with Cambridgeshire, is a marble wheel cross on a pillar on a four stepped base with low corner posts. There is lead lettering at the base of the shaft and on the plinth and top step. A flower container stands in front of the memorial, which is in the centre of West Walton cemetery.
In 2006/7 English Heritage and the Wolfson Foundation gave a grant of £490 towards work to clean the memorial with water and masonry biocide, to repair damaged stonework and one of the corner posts, to repair lifted lettering and to paint areas of missing lettering.
The memorial was built in the early 1920s. After World War II names were added and memorial gates erected at the entrance to the cemetery.
The horizontal arms of the cross are inscribed with the dates 1914 and 1918 and Pro Deo et Patria is inscribed around the wheel. The lettering on the front of the plinth reads
"To the
dear memory
of our fallen

Samuel Andrew
William Andrews
Thomas Bedford
Page Crane
William Coe
Frederick Day
Stanton Edgoose
James Fulcher
William Halstead
Arthur Halstead
Walter Harnwell
William Howling
Robert Hubbard
Harold Jackson
George Lythell
Geoffrey Leadbitter
Frank Moules
Arthur Plumb
George Thompson
John Thompson
Ernest Thompson
William Waltham
Thomas West
Charles Webb
Alfred Webb
Albert Woodin"

"Blessed are the peacemakers for they shall
be called the children of God"
On the side of the plinth the following text has been added
"1939 – 1945
Maurice Bliss
James Bray
Clifford Goodman
Kenneth Harnwell
Cyril Homan-Berry
Bernard Norman"
Further information
War Memorials Trust reference WM1824
UK National Inventory of War Memorials: Unknown
If you have a concern about this memorial please contact the Trust on conservation@warmemorials.org