Showcase result
Haydons Road Boys' School
Town or City: Wimbledon
County: Greater London
Country: England
WMT Reference Number: WM1813
Value of grant: £940.00
Type of memorial: Freestanding
Type of work: Conservation and repair
Grant scheme: English Heritage/Wolfson Foundation Grants
Year: 2006

UKNIWM reference number: 12468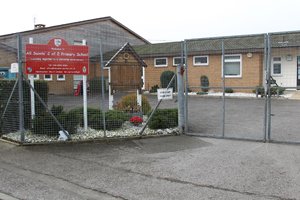 The war memorial commemorating the Great War fallen of Haydon Road Boys' School now stands in the car park of All Saints Church of England primary school in Wimbledon, London. It is an oak shrine with a gabled roof. On the front of the shrine, within the gable, is gilded lettering and a wreath. Below this are three plaques with painted inscriptions, protected by glass. The wooden structure is supported by concrete posts at the rear.
In June 2006 English Heritage and the Wolfson Foundation offered £940 towards work to renovate the memorial. A new hardwood structure was to be supplied, fitted and stained and assembled with sections of the existing roof and decorated top panel, the three main panels were to be inscribed with black paint and gold leaf to match the original as closely as possible, damaged sections of feather edged roof covering were replaced and these replacements painted to match the original. Finally the glass panels were replaced to protect the wood from the weather, but with a gap at the top and the bottom of the panels to allow air circulation and prevent damage from moisture build-up.
The gilded lettering at the top of the memorial, around the wreath, reads
For God
for king for country
Greater love hath no man than this,that a man lay down his life for his friends
At the bottom is a dedication
In memory of the Haydonians who fell in the Great War 1914 – 1918
Presented to Haydons Road Boys School
by Lady Holland 1917
The memorial was originally attached to a wall in Haydons Road Boys' School and was dedicated in November 1917. When the new school opened in November 1981 the memorial was mounted on wooden posts in a shrubbery at the front of the school, and when these rotted, on concrete ones. After the work was completed in 2006 the memorial was moved to another site within the car park where it was less exposed to the weather and where it would be visible to the public even when the school was closed.
Sir Arthur and Lady Mary Catherine Barbara Holland were well-known in Wimbledon and founded Wimbledon and Mitcham Library as well as doing other community minded work. Sir Arthur was president of Wimbledon Football Club and a Justice of the Peace. The family lived at Holmhurst, at the top of the hill near Westside Tennis Club.
Further information
War Memorials Trust reference WM1813
UK National Inventory of War Memorials: 12468
If you have a concern about this memorial please contact the Trust on conservation@warmemorials.org