Showcase result
Cotgrave cross
Town or City: Cotgrave
County: Nottinghamshire
Country: England
WMT Reference Number: WM1758
Value of grant: £270.00
Type of memorial: Freestanding
Type of work: Conservation and repair
Grant scheme: Small Grants Scheme
Year: 2013

UKNIWM reference number: 27207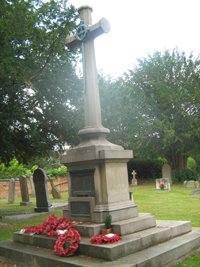 The war memorial to the fallen of the former mining village of Cotgrave in south Nottinghamshire stands in the burial ground on Scrimshaw Lane opposite All Saints church. The memorial is a cross of local sandstone with a metal sword and wreath attached to the front. The base of the shaft is moulded, and the cross sits on a plinth and a three-stepped square base. On the front of the plinth metal plaques commemorate the fallen of the two world wars. There is an additional name engraved on one face of the plinth.
In June 2006 English Heritage and the Wolfson Foundation gave a grant of £690 towards work to clean the memorial with water and masonry biocide, to rake out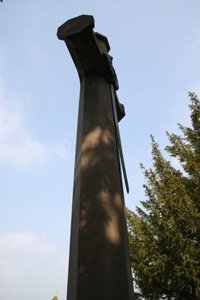 and re-point the steps of the base and to clean the metal plaques.
In 2013 War Memorials Trust offered a grant of £270 towards re-fixing the bronze sword back onto the memorial as it had been bent by someone trying to prise it off the memorial. The memorial was carefully straightened then fixed on using an epoxy resin and was temporarily strapped in place to allow the resin to bond. Re-pointing was also carried out using a lime mortar.
The inscription on the higher of the two plaques commemorates the fallen of World War I. The inscription reads
To the memory of the men of
this parish who gave their lives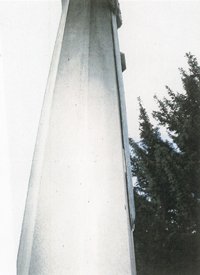 in the Great War 1914 – 1918

Samuel Lacy John W. Hayes
Jospeh Hind Arthur Harrison
George Middleton Herbert Marshall
William J. Herapath C. Arthur Moulds
Arthur W. Simpson John E. Carrington
Sydney Henson Francis C. Woolley

Be thou faithful unto death and
I will give thee a crown of life
The additional engraving in the stone reads
Pte Walter Henstock
South Staff Regt.
Died May 17th 1920
Aged 22 years
Pte Henstock is buried in Cotgrave.
The World War II plaque reads
1939 – 1945
George David Cole
John Fryer
James Pepper
Dennis Dixon Phillips
Be ye also faithful
The Great War memorial window (WM1430) in All Saints church, opposite the burial ground, was given a grant by War Memorials Trust in 2004.
Further information
War Memorials Trust reference WM1758
UK National Inventory of War Memorials: 27207
War Memorials Online: 96994
If you have a concern about this memorial please contact the Trust on conservation@warmemorials.org