Showcase result
Thurnscoe
Town or City: Thurnscoe
County: South Yorkshire
Country: England
WMT Reference Number: WM2674
Value of grant: £2722.00
Type of memorial: Freestanding
Type of work: Conservation and repair
Grant scheme: English Heritage/Wolfson Foundation Grants
Year: 2008

UKNIWM reference number: 28132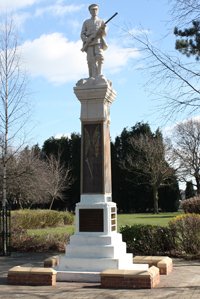 The war memorial in the former mining village of Thurnscoe in the Dearne valley in South Yorkshire is a sandstone pillar with a moulded top on which stands a statue of an infantryman in uniform holding a rifle and standing on rough ground. On the front face of the pillar is a unusual feature, that being a metal plaque on which is an engraving of a winged figure holding a sword in one had and an upraised laurel wreath in the other. The figure wears a laurel wreath and is depicted standing on an outcrop of rock. The large feathered wings and the sword are outlined in white and the laurel wreaths in green; the rest of the picture is outlined in black. There are metal plaques with dedications and rolls of honour on the other faces of the pillar. The pillar stands on a plinth, to which there are fixed other plaques, and three limestone steps on a concrete base. The base of the memorial is surrounded by four brick "corners". The memorial is in Thurnscoe Park on the High Street.
In 2008/9 English Heritage and the Wolfson Foundation offered £2,722 towards work to clean the masonry, poultice clean the gypsum crusts, point open joints, carry out localised repairs to the render on the plinth, reduce the staining of glue residues on the area around the front plaque, re-paint the plinth to match the existing paintwork, repair the coping on the boundary wall, clean the brass and bronze plaques, replace the ferrous fixings with non-ferrous and to re-patinate and re-wax the plaques.
The main dedication on the memorial, on the front face of the plinth, reads
"Erected
by public subscription
to the glorious memory
and in recognition of
the supreme sacrifice
made by the above named
persons of this parish"
and on the moulding at the top of the pillar are the dates 1914-1918 and inscribed text "The Great War".
There is also a dedication for the Second World War
"The above also made
the supreme sacrifice
in the World War
1939 – 1945"
After the work was completed a rededication service was held on 2nd July 2009 attended by the Mayor and Mayoress of Barnsley.
A War Memorial Committee was formed on 18th September 1918 by Thurnscoe Urban District Council. The cost of the memorial was £750, the bulk of which was raised by the Hickleton Main Colliery War Fund. The memorial was designed by Capt M Tyas and erected by Messrs Tyas and Guest of Swinton. The memorial was unveiled on Saturday 2nd October 1920 by Mrs Thornley-Taylor in the presence of Mr G H Hirst MP. On the same day medals were presented to the miners of Hickleton Main Colliery for their services in the Great War.
The Thurnscoe War Memorial Trust Fund was set up in 1993 to repair and upkeep the memorial. New plaques were added to the memorial in November 2006 and December 2007.
Further information
War Memorials Trust reference WM2674
UK National Inventory of War Memorials: 28132
If you have a concern about this memorial please contact the Trust on conservation@warmemorials.org