Showcase result
Newcastle - The Response
Town or City: Newcastle
County: Tyne and Wear
Country: England
WMT Reference Number: WM2012
Value of grant: £8660.00
Type of memorial: Non-Freestanding
Type of work: Conservation and repair
Grant scheme: English Heritage/Wolfson Foundation Grants
Year: 2007

UKNIWM reference number: 17823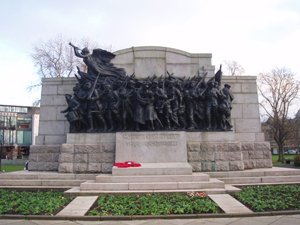 The Grade II* memorial to commemorate the raising of several battalions of the Northumberland Fusiliers in Newcastle, known as "The Response", or the Renwick War Memorial, is a large pale granite monument with a group sculpture or frieze of bronze showing soldiers leaving for war. The thirty figures are sculptured nearly in the round. A drummer boy at the front beats a drum and most of the men carry guns over their shoulders. Children run alongside the group as the soldiers say farewell to their families and above the men a winged figure blows a horn. There is an inscription in the stone of the plinth below the sculpture. On the rear of the memorial there is a low relief carving of St George in medieval military dress with a lance and a shield, standing on a pair of intertwined sea horses (the supporters on the city's coat of arms). He is flanked by two shields on which are depicted the city's coat of arms, and either side of these are carvings of soldiers in seventeenth and nineteenth century dress dated 1674 and 1919. The memorial stands on a three-stepped base and is surrounded by flower beds. It stands beside St Thomas the Martyr church, in front of the Civic Centre and by Barras Bridge.
In 2007/8 English Heritage and the Wolfson Foundation offered £8,660 towards work to clean the bronze sculpture and carry out repairs where necessary, to re-patinate the surfaces to match the original patination and to coat surfaces with a microcrystalline wax.
The raised lettering on the front of the memorial reads
"Non sibi sed patriae
The response 1914"
and the lettering on the rear
"Quo fata vocant"
Under this in raised lettering are the words
"To commemorate the raising of
The B Coy 9th Battalion and the 16th, 18th and 19th
Service Battalions
Northumberland Fusiliers
by the Newcastle and Gateshead
Chamber of Commerce August – October 1914

The gift of Sir George Renwick Bt DL and Lady Renwick
MCMXXIII"
The sculptor was Sir William Goscombe John R.A., who had studied under Rodin in Paris. Sir George Renwick was a local ship-owner and MP for Morpeth, and his five sons all returned from the war. The memorial was unveiled on 5th July 1923 by the Prince of Wales. A guard of honour was made of Northumberland Fusiliers and attendees included blind ex-servicemen and a large crowd.
After the restoration work was completed the rededication ceremony was held on Thursday 25th October 2007. The Duke of Edinburgh and the Lord Lieutenant of Tyne and Wear were present, as well as four generations of the Renwick family who had originally given the gift of the memorial and many members of the public.
Further information
War Memorials Trust reference WM2012
UK National Inventory of War Memorials: 17823
The National Heritage List for England
Heritage Gateway listing record: 304387
North East War Memorials Project NUT018
Information about the war service of the Northumberland Fusiliers
If you have a concern about this memorial please contact the Trust on conservation@warmemorials.org