Showcase result
Nuneaton South African War (Buller) Memorial
Town or City: Nuneaton
County: Warwickshire
Country: England
WMT Reference Number: WM2009
Value of grant: £6600.00
Type of memorial: Freestanding
Type of work: Restoration
Grant scheme: English Heritage/Wolfson Foundation Grants
Year: 2008

UKNIWM reference number: 19166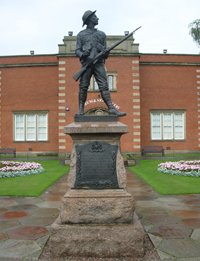 The South African War Memorial in Nuneaton, Warwickshire, known as the Buller memorial, is a 5ft bronze statue of an infantryman in Boer War campaign dress with a slouch hat tipped back, holding a rifle whilst staring straight ahead. The statue stands on plinth on a rough granite three-stepped base. There is an inscribed dedication on a metal plaque on the top step of the plinth and plaques recording names on two sides of the plinth. On the rear face of the plinth is a plaque to explain the 2008 renovations to the memorial. The text on the main dedicatory plaque is surrounded on three sides by a decoration of laurel leaves and some floreate decoration. The memorial stands in Riversley Park in front of the Nuneaton Museum and Art Gallery. The original statue was stolen in November 2006 just two days after the annual remembrance service.
In 2007/8 English Heritage and the Wolfson Foundation offered £6,600 towards commissioning an identical replacement statue. The new statue was to be modelled in clay then cast in bronze. In order to reduce the risk of future theft the statue was to be marked with ownership details and fixed to the plinth by means of stainless steel rods attached through the statue base and into holes drilled into the granite.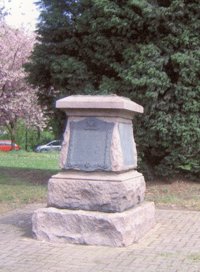 The inscription reads on the plaque reads:
"Erected to perpetuate the memory
of the men of the Nuneaton
district who at the call of
duty went forth to fight their
country's battles in
South Africa during the years
1899 – 1902. By public subscription
through the agency of the Midland
Counties Tribune newspaper"
An additional plaque was attached to the memorial to read
"This statue erected in October 2008
is a replica of the original which
was stolen in November 2006.
The replacement was commissioned at
the behest of the people of the
borough of Nuneaton and Bedworth

Sculptor Allan Beattie Heriot"
As a security measure the plinth was moved to the sunken garden at the entrance to Nuneaton Museum and Art Gallery in Riversley Park where there are security lights and CCTV and the new statue erected on it here. The memorial was re-dedicated at a ceremony on 26th October 2008.
The original sculptor was Adolphus E.L. Rost. The statue was unveiled on 28th January 1905 by Gen Sir Redvers Buller VC. It was originally located on Bond Gate and was moved in 1967 as the site was being re-developed.
Further information
War Memorials Trust reference WM2009
UK National Inventory of War Memorials: 19166
If you have a concern about this memorial please contact the Trust on conservation@warmemorials.org