Showcase result
Waldron
Town or City: Waldron
County: Sussex (East)
Country: England
WMT Reference Number: WM1725
Value of grant: £5000.00
Type of memorial: Freestanding
Type of work: Conservation and repair
Grant scheme: English Heritage/Wolfson Foundation Grants
Year: 2006

UKNIWM reference number: 17263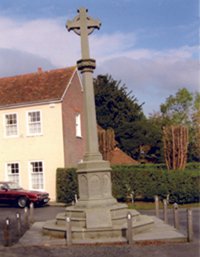 This war memorial is made from Forest of Dean stone, a type of sandstone. It is in the form of a wheel cross on top of an octagonal column mounted on a pedestal and octagonal stepped base. In some places the lettering is flush lead and others it is enamelled.
It is located in Waldron, near Heathfield in East Sussex. It was unveiled in July 1920 and over 2000 people attended the event.
The memorial has received multiple grants and the summary details of this record relate to the most recent grant.
The memorial's custodian had noticed it was leaning and it was suspected that there were weak foundations. An initial grant of £4,000 was offered to investigate this matter by removing the steps, seeing what was beneath and strengthening the foundation. However, it was soon realised that more substantial works were required and the whole memorial would have to be taken apart. A further grant of £5,000 was offered for this work. Before the dismantling began, and during the process, the memorial was recorded by photographs and sketches so that it could be put back together in exactly the right order.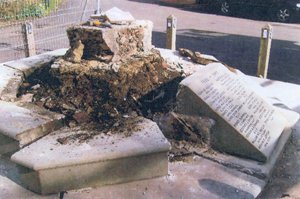 When the foundations were reached, the contractors were shocked by what they found. The memorial was being supported by a pile of bricks and rubble with some concrete on top. This material was not only insufficient for the weight of the memorial but it was located on top of an underground spring!
Historic records reveal there was only one month between the memorial being commissioned and it being unveiled. Therefore, it seems the masons may have cut some corners and did not provide the right foundations or investigate the land. Over time, the spring washed away the earth, weakening the foundations further and causing the memorial to lean.
The contractors rebuilt the foundations with concrete and re-assembled the memorial, re-pointing with lime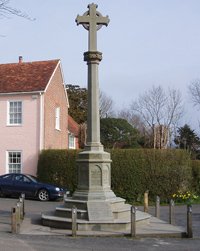 mortar. Stone repairs were done using Forest of Dean stone.
The war memorial was originally dedicated to the fallen of World War I and names from World War II were subsequently added. It was rededicated in July 2008, 88 years after it was first unveiled.
The inscription reads:
In
proud and grateful
memory of
the men from the
parish of Waldron
who gave their lives
for
God, King and country
in the Great Wars
1914-1918
And 1939-1945
Their name liveth for evermore
Further information
War Memorials Trust reference WM1725
UK National Inventory of War Memorials: 17263
If you have a concern about this memorial please contact the Trust on conservation@warmemorials.org