Showcase result
Frodsham
Town or City: Frodsham
County: Cheshire
Country: England
WMT Reference Number: WM2343
Value of grant: £30000.00
Type of memorial: Freestanding
Type of work: Conservation and repair
Grant scheme: WMT Grant Scheme
Year: 2018

UKNIWM reference number: 42825
Frodsham war memorial is located in a prominent position on the top of Overton Hill in Frodsham, Cheshire.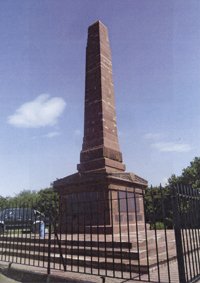 The large obelisk is constructed from red sandstone and is set within a paved area surrounded by iron railings. There are three steps to the base and a square pedimented plinth. Fourteen slate inscription panels are placed around the plinth.
In 2008 a grant of £6,286 was offered to address a number of issues. One of the main problems with the memorial was that in the past a mortar had been used of unsuitable components (linseed oil) and colour (bright red). These factors combined with the very exposed position meant that in many places there were open joints and extensive re-pointing with lime mortar was required. In addition, there was a heavy build up of algae meaning the stone looked a dark green colour rather than red. Steam cleaning was very effective and restored the original colour of the stone. Lastly, the slate plaques had begun to flake but there was little that could be done about this other than waxing the surfaces to protect them further.
Unfortunately, during the course of the works, the war memorial was targeted by vandals who broke into the site, climbed the scaffolding and scratched their names into the stone. The police have since apprehended those involved.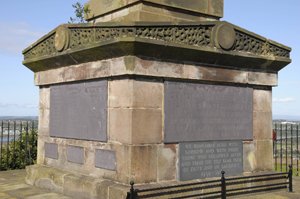 In 2017 a grant was awarded through the War Memorials Trust Grants Scheme towards a full condition survey and report. This was undertaken by a conservation-accredited conservator to identify necessary and appropriate conservation and repair works and recommendations which could lead to a further grant application.
In 2018 a further grant of £30,000 was awarded through the Grants for War Memorials Scheme to undertake the works recommended by the condition survey and report. These works included taking up the paving and steps to provide a new foundation, cleaning and repointing. Works were also undertaken to the railings surrounding the memorial.
The war memorial and the land were given to the people of Frodsham by local landowners to commemorate those who fell in World War I. The memorial was unveiled in 1921 by Colonel W. Bromley Davenport. It is dedicated to those who fell in World War I and II and is now listed grade II.
The inscription reads: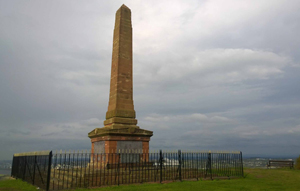 To the honour and
grateful remembrance of
the men of Frodsham whose
names are here recorded
and who gave their lives in the
service of their country during
the Great War 1914 – 1918
We remember also with
sorrow and with pride
those who followed after
and trod the self same path
of duty and of sacrifice
1939 - 1945
Further information
War Memorials Trust reference WM2343
UK National Inventory of War Memorials: 42825
If you have a concern about this memorial please contact the Trust on conservation@warmemorials.org