Showcase result
Burnley
Town or City: Burnley
County: Lancashire
Country: England
WMT Reference Number: WM2299
Value of grant: £2500.00
Type of memorial: Non-Freestanding
Type of work: Works to hard landscape
Grant scheme: Small Grants Scheme
Year: 2007

UKNIWM reference number: 2050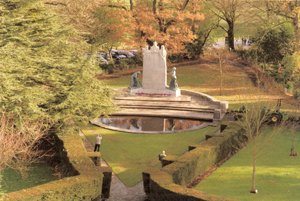 This war memorial is a Portland stone cenotaph with carved figures of a soldier, airman and sailor. On each side are bronze female figures representing wives or mothers. There are also some interesting symbols used in the design such as the rosemary bush for remembrance and the cricket bat representing the men's boyhood. In front of the memorial is a reflective pool surrounded by paving and grass.
The memorial is located in Towneley Park, Burnley, Lancashire. It was unveiled in 1926 by the 17th Earl of Derby and was paid for by the Mayor of Burnley, Caleb Thornber. It was estimated that over 30,000 attended the ceremony.
The design was produced by Walter Henry Gilbert, the lesser known cousin of the famous sculptor Sir Alfred Gilbert. Amongst his other works are the gates to Buckingham Palace and the great doors to the Grand Temple of the Masonic Peace Memorial, now known as Freemasons' Hall in London. Gilbert said that he had endeavoured to conceive a memorial that shall breathe nothing of slaughter, but only of duty fulfilled and by fulfilment of duty, the comfort and thankfulness brought to those who remain.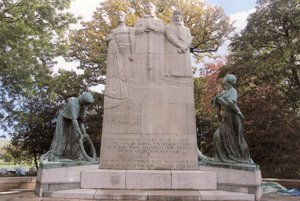 Towneley Park is undergoing a large-scale regeneration and the works to the war memorial were part of this. The aim of the works were to restore the memorial and its landscaping to how it originally looked in the 1920s. Over time, the reflective pool had been filled in with soil and plants and overgrown bushes blocked views of the memorial.
A grant of £8,800 from English Heritage and The Wolfson Foundation paid for the restoration of the pool. A grant of £2,500 from the Small Grants Scheme went towards the re-laying of the crazy paving. As well as these works, the memorial was cleaned and re-pointed.
The inscription reads:
This monument was erected in memory of
the men of Burnley who gave their lives
for their fellow countrymen in the Great
War 1914 – 1918
Make them to be numbered with thy saints
in glory everlasting.
This monument stands also in honour of those who died for our freedom 1939-1945.
The sum necessary for the erection of this
memorial was bequeathed by Caleb Thornber JP,
a former mayor and alderman of this
borough, to ensure that the sacrifice com
-memorated should ever be held in grateful
remembrance. The garden of remembrance
was provided by the townspeople of Burnley.
Further information
War Memorials Trust reference WM2299
UK National Inventory of War Memorials: 2050
If you have a concern about this memorial please contact the Trust on conservation@warmemorials.org