Showcase result
Stockbridge
Town or City: Stockbridge
County: Hampshire
Country: England
WMT Reference Number: WM162
Value of grant: £1080.00
Type of memorial: Freestanding
Type of work: Conservation and repair
Grant scheme: WMT Grant Scheme
Year: 2018

UKNIWM reference number: 40620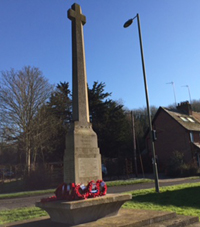 Stockbridge war memorial is located in the village of Stockbridge, in the Test Valley in Hampshire. It stands beside St Peter's church at the junction of Romsey and Winchester Roads. The memorial is a sandstone cross on a narrow rectangular plinth atop a three stepped base and a round apron. The highest step is shaped like an anvil. It was designed by the leading architect Sir Edwin Lutyens and is Grade II listed.
In June 2001 the Grants for War Memorials scheme funded by English Heritage provided a grant of £2,240 to clean the memorial with low pressure water and natural bristle brushes. Six pieces of stone on the steps were replaced and two repaired. The new stone inserted was Portland stone.
I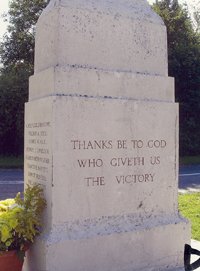 n 2008 War Memorials Trust gave a grant of £948 towards the removal of an inscription on west face of the memorial which read "Thanks be to God who giveth us the victory" and its replacement by a piece of stone inscribed with the names of twelve people who died in World War II. The replacement material used was Portland stone, matched as closely to the existing memorial as possible. This was given Planning Consent by Test Valley Borough Council as the memorial is Grade II listed.
In 2017 a grant of £380 was offered through the War Memorials Trust Grants Scheme, supported by the First World War Memorials Programme, towards a condition survey and report with recommendations to inform necessary conservation and repair works which was undertaken by a conservation-accredited conservator.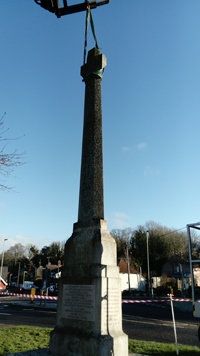 Following the 2017 report it became clear that the memorial had a serious structural problem. A 2018 structural survey led to an emergency grant of £1,080 being offered to dismantle the cross shaft with the use of a crane as there was concern the memorial would collapse. The Trust is now working with Stockbridge Parish Council to reinstate the memorial.
Further information
War Memorials Trust reference WM162
UK National Inventory of War Memorials: 40620
The memorial is listed building number 140402
War Memorials Online: 83930
For more about
Sir Edwin Lutyens
The Italy Campaign 1943-5
Egypt/ Palestine during the First World War
The Battle of Jutland May/June 1916
If you have a concern about this memorial please contact the Trust on conservation@warmemorials.org