Showcase result
Captain Lacy Day
Town or City: Southampton
County: Hampshire
Country: England
WMT Reference Number: WM1654
Value of grant: £340.00
Type of memorial: Freestanding
Type of work: Conservation and repair
Grant scheme: Small Grants Scheme
Year: 2006

UKNIWM reference number: 00000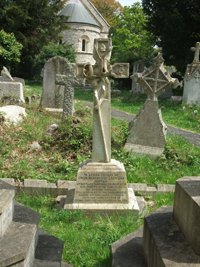 The memorial to Capt Owen Heathcote Lacy Day, who was killed in the Dardanelles campaign, is in Southampton Old Cemetery behind two other memorials to members of the Day family. It is a white marble cross on a plinth and base. A sword with its baldric, sculpted in relief, rests against the cross and the badge of the Hampshire Regiment is engraved on the cross. There are inscriptions in raised lettering on the plinth and the base.
In March 2006 War Memorials Trust gave £340 towards restoration of the memorial, which needed cleaning and had suffered from vandalism and was in two pieces. The memorial was transported to a workshop where it was cleaned and new dowelling inserted to re-erect the cross. Vegetation was removed from the site and the memorial was restored to its place.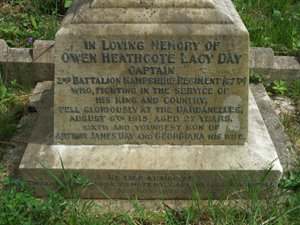 The lettering on the plinth of the memorial reads
In loving memory of
Owen Heathcote Lacy Day
Captain
2nd Battalion Hampshire Regiment (67th)
who, fighting in the service of
his King and Country
fell gloriously at the Dardanelles,
August 6th 1915 aged 27 years,
sixth and youngest son of
Arthur James Day and Georgiana his wife
And on the base
He lies buried at
Twelve Trees Copse Cemetery, Cape Helles, Gallipoli
August 1922
Capt Day was originally posted as "missing" but after 7 years and 22 days his parents were informed that his body and identity disc had been found. The later inscription was then added.
Further information
War Memorials Trust reference WM1654
UK National Inventory of War Memorials: Unknown
If you have a concern about this memorial please contact the Trust on conservation@warmemorials.org