Showcase result
Otterton
Town or City: Otterton
County: Devon
Country: England
WMT Reference Number: WM2334
Value of grant: £1230.00
Type of memorial: Freestanding
Type of work:
Grant scheme: Small Grants Scheme
Year: 2008

UKNIWM reference number: 25364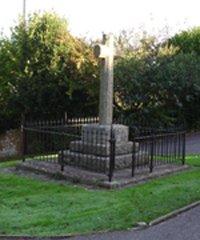 The war memorial in the village of Otterton stands on a small lawn in front of St. Michael's Church. It is a granite cross mounted on three-stepped stone base surrounded by a wrought-iron fence. It was erected by parishioners in about 1920.
In March 2008 War Memorials Trust offered a grant of £1,230 towards work to remove the damaged kerb and concrete outside the railings as well as the concrete from the area between the railings and the base of the memorial. New granite setts were laid along the kerb edge and a new concrete-covered stone base installed between the railings and the base of the memorial. The damaged concrete outside the railings was replaced with concrete over a stone base, and vegetation growing in the cracked concrete removed and weedkiller applied.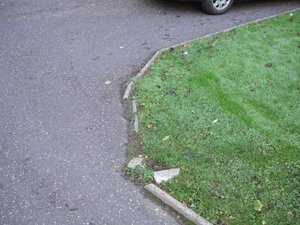 The inscription on the memorial reads
This memorial
was erected by the Parishioners
to the glory of God
and in remembrance of
the men of Otterton
who gave their lives in the Great War
1914-1918
These men of ours, unselfish, unafraid

went to the world-wide fight
forget not how they fought, and how we prayed
for England and the right
Their names live for evermore
RIP
1939-1945
There are 16 names from the First World War on the memorial and 7 names from the Second World War on the memorial.
Further information
War Memorials Trust reference WM2334
UK National Inventory of War Memorials: 25364
If you have a concern about this memorial please contact the Trust on conservation@warmemorials.org